Ousted Egyptian President Morsi sentenced to 20 years in jail
2015-04-21 05:44:42 | Al Muslim News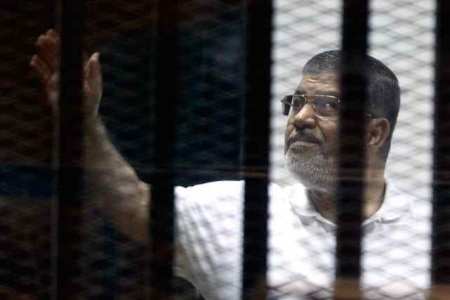 A court in Egypt sentenced ousted President Mohamed Morsi to 20 year in jail on violence-related charges. Muhammad Morsi, Egypt's first freely elected president was charged to incite violence outside Cairo's Ittihadiya presidential palace in 2012.
Court decision was the first against Morsi since his ouster and imprisonment by the army in mid-2013. Since then, he has been slapped with numerous criminal charges, which he and his supporters blame are politically motivated.
Although a total of 11 people – including eight Morsi supporters – were killed in the violence, the trial only addresses the death of one journalist and two anti-Morsi demonstrator during violence.
Muhammad Morsi was ousted by the military in July of 2013 – after only one year in office – following protests against his presidency.
Since Morsi's ouster, Egyptian Military government has launched a relentless crackdown on dissent that has largely targeted Muslim Brotherhood, leaving hundreds dead and thousands behind bars.
. Tags: #
Arab-World
#