One year after Burhan Wanis death : Kashmir
2017-07-06 15:03:31 | usman bashir @ Kashmir News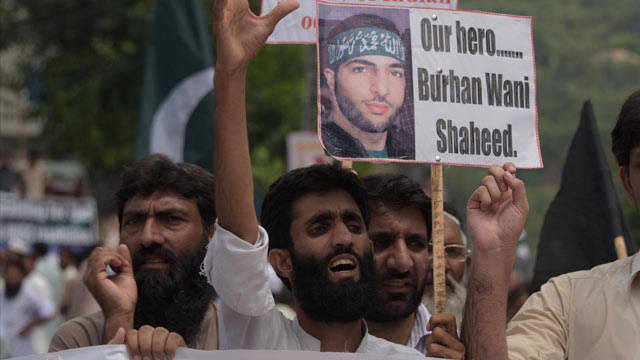 Its first death anniversary of Burhan Wani, Commander of Hizb ul Mujahideen. He was brutally martyred last year during a joint operation by indian forces in south Kashmir's Bumdoora village in Kokernag area; since then the Valley of Kashmir has erupted in protest rallies. The protesters kashmiries, armed only with stones, which they pelt on the Indian forces to show there hate for them. there only demand go back india free kashmir. The Occupying force the Indian army retaliated by using pellet guns, which have killed more than 500 and blinded about 5,000, while nearly 20,000 have been injured. Curfew remained imposed for more than four months. Around 12,000 people were arrested or detained.
Indian brutality increasing day by day. Pakistan's Prime Minister was constrained to mention the martyrdom of Burhan Wani and the ensuing reign of terror unleashed by the Indian army in Indian Occupied Kashmir . Indian riposte has been to incessantly violate the ceasefire at the Line of Control (LOC) and orchestrate false flag terror operations in its own military installations but blame Pakistan to divert the attention of the world from Indian brutalities.
This April, a youthful Kashmiri, Farooq Ahmad Dar, who had come to make his choice in nearby surveys was captured by Indian Army's Major, situated and tied on an armed force jeep as a human shield and paraded in the avenues of Srinagar. Rather than charge sheeting Major Gogoi for his abomination, Major Gogoi was granted by the Indian Army Chief much to the shame of human rights activists.
Since Burhan Wani was a notable figure of the freedom fighter, it is normal that his commemoration would be seen on a vast scale in IOK. Far reaching dissents are relied upon to be held. The Indian occupation strengths, of course, are probably going to utilize savage drive including live ammo and pellet firearms against the protestors, which may bring about significantly more setbacks. This year the primary demise commemoration of Burhan Wani falls amidst the Amarnath Yatra season, the Hindu journey may turn out to be further tense each year. Yatra, this year, has been stopped by 8 days. The 40-day will begin from June 29 and will be held in exceedingly charged condition — a month after Hizbul pioneer Sabzar Bhat's passing and about seven days before Burhan Wani's demise commemoration.
Burhan Wani was a dynamic youth pioneer. He was merciless focused on and killed. Modi was not set up for the extensive scale challenges, which proceed unabated. He is attempting to point the finger at Pakistan for the uprising and is utilizing different strategies to scorn Pakistan. Give us a chance to watch the principal passing commemoration of Burhan Wani in Pakistan as well and gravely guarantee to keep giving good help to the hapless Kashmiris of IOK.
. Tags: #
Kashmir-Muslims
#