Non-Muslims fast to raise funds for mosque in Singapore
2015-06-21 08:02:17 | Al Muslim News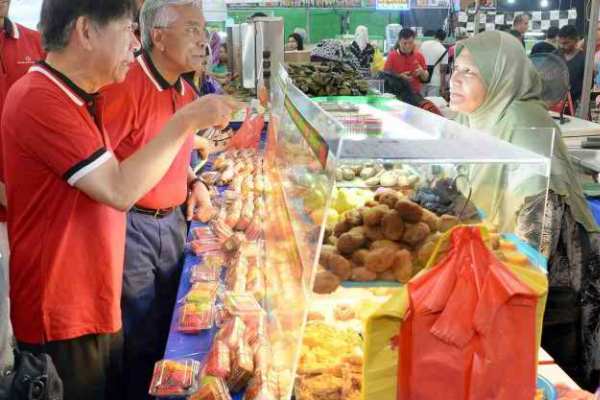 Singapore`s Development Minister Khaw Wan officially opened Bazar Hari Raya 2015. He was among 50 non-Muslims who fasted yesterday (Source: Asia One)

At Sembawang's annual Hari Raya Bazaar (Ramadan Bazar) launch, it was revealed that more than 50 non-Muslim MPs and grassroots activists joined their Muslim residents in fasting on Saturday (Jun 20).
The event, organised by grassroots leaders from Sembawang GRC, was attended by Minister for National Development Khaw Boon Wan and other MPs, who broke fast with Muslim residents.
"I was told to get up at 4.30 to prepare breakfast. So last night, I didn't sleep well," said National Development Minister Khaw Boon Wan, who is also MP for Sembawang GRC. I ate my breakfast and I have not eaten since 3.30."
The bazaar is in its 14th year. As with previous years, it aims to meet the needs of Muslim residents in Sembawang is land area in north of little island nation of Singapore, as they prepare for Ramadan and Hari Raya.
Organisers hope to raise S$100,000 to help fund the building of the mosque.
Their efforts are to raise funds for the building of the new, 4,500-capacity Yusof Ishak Mosque in Woodlands, which is due to open late next year.
Senior Parliamentary Secretary for Education and Manpower and MP for Marsiling ward Hawazi Daipi said the GRC aims to raise $100,000 for the mosque through donations.
"This is also a time for reflection and giving alms as we feel the hunger of the poor in the community," he said in a speech. "The spirit of sharing is even more evident during Ramadan."
Local spice manufacturer House Brand launched a cookbook at the event and donated $12,000 to self-help groups Sinda, Mendaki and the mosque.
. Tags: #