Netherlands approves ban on Muslim face veil
2015-05-23 05:53:13 | Al Muslim News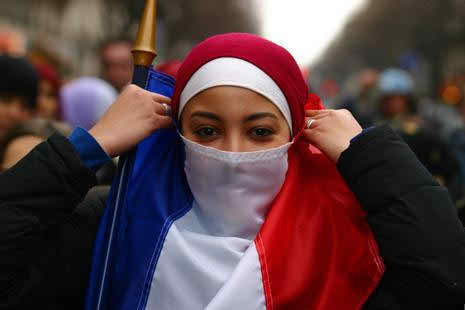 A Dutch Muslim girl`s face veil with flag of Netherlands
The Dutch cabinet has approved a controversial plan for imposition of ban on wearing the face-covering veil, primarily targeting Muslim women on public places including schools, hospitals and public transport.
Dutch Prime Minister Mark Rutte while talking to reporters claimed that the ban does not apply to wearing the face veil on the street, but only "in specific situations where it is essential for people to be seen" or for security reasons.
Contrary to his previous word, PM Rutte made the details vague by saying that the government had "tried to find a balance between people's freedom to wear the clothes they want and the importance of mutual and recognisable communication".
However, he claimed that imposition of ban on hijab is not discriminating any religion and it would be implemented after approval of the parliament.
The ban will also apply to balaclavas and motorcycle helmets when worn in inappropriate places, such as inside a store, Deputy Prime Minister Maxime Verhagen told reporters, denying that this was a ban on religious clothing.
The earlier proposed ban reflected the influence of the anti-Islamist Geert Wilders, whose Freedom party was at that time the third largest in parliament and the minority coalition government's chief ally.
Attempts to introduce similar legislation in 2006 failed. Lawyers said it would probably be unconstitutional and critics said it would violate civil rights of citizens.
It was agreed that a new law would be drawn up by the coalition partners of Rutte's Liberal VVD party and the Labour PvdA when they formed their coalition in 2012.
Around 5% of the Netherland's 17 million people are Muslims. Mostly Muslims are living in Netherland migrant worker form Turkey, Morocco and from former colonies of Indonesia and Suriname.
. Tags: #
Islamophobia
#
Hijab
#
Veil
#
Niqab
#
Discrimination
#