Myanmar: Suu Kyi`s inexcusable silence on the genocide of Rohingya Muslims
2015-05-29 06:57:38 | Al Muslim News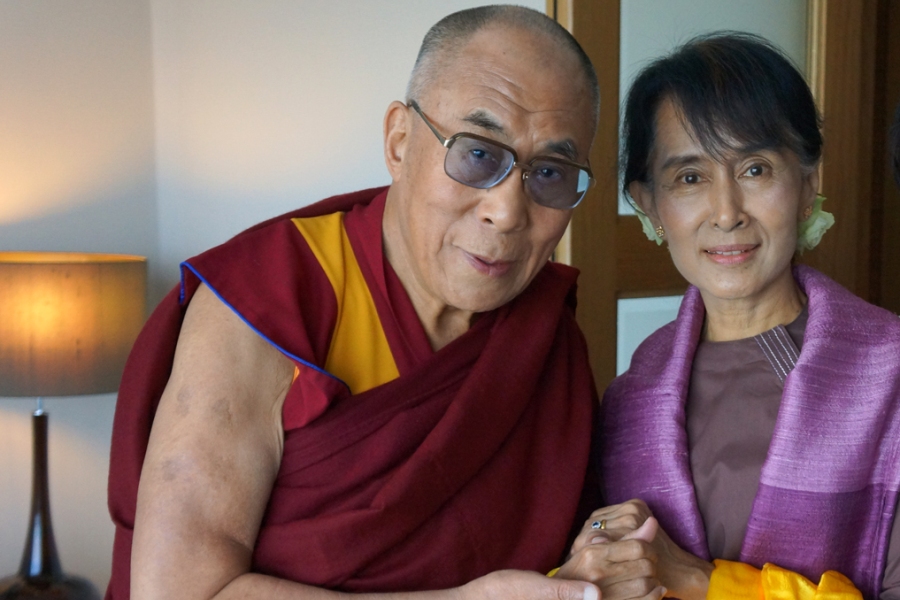 Myanmar Opposition leader Aung San Suu Kyi and Buddhist spiritual leader Dalai Lama
In a genocide silence is complicity, and so it is with Aung San Suu Kyi and Myanmar's desperate Rohingya community. The Myanmar government's ongoing persecution of the Rohingya has, in the last two years, reached a level so untenable that the Rohingya are faced with only two options, to remain and risk annihilation or flee. The current migration of those seeking asylum is just one manifestation of genocide.
The Nobel Prize winner, Suu Kyi was once an unassailable champion of Myanmar's powerless. But the opposition leader Suu Kyi's refusal to speak up for a persecuted Muslim minority at the heart of a migrant crisis has cast doubt over her moral force — and even earned a gentle rebuke from fellow Nobel laureate the Dalai Lama, FMT reported.
Images of hungry Muslim migrants from Myanmar hauled from vessels to Southeast Asian shores after months at sea have spurred calls for immediate humanitarian action. Inside Myanmar, the Rohingya have been subjected to decades of stigmatization, violence and harassment.
Regional nations are gathering in Thailand Friday to discuss both issues.
Attention has swung to one of the key departure points for the migrants, strife-torn Rakhine state in western Myanmar, where tens of thousands of stateless Rohingya Muslims live in dire displacement camps desperate to leave.
But as Myanmar's government wavers between offering some assistance to stricken migrants and denying any responsibility for their exodus, international rights groups looking for a moral beacon have found little support from Suu Kyi.
Her absence from the discussion has been so conspicuous that the Dalai Lama this week urged Suu Kyi to throw her weight behind the Rohingya Muslims.
It's very sad. In the Burmese (Myanmar) case I hope Aung San Suu Kyi, as a Nobel laureate, can do something," he told Thursday's edition of The Australian newspaper.
The Buddhist spiritual leader said he recognised the difficulty of her position in a nation where expressing sympathy for the Muslim group brings ready condemnation.
"But in spite of that I feel she can do something," he added.
Suu Kyi spent more than 15 years locked up by the former junta for her tireless campaign for democracy in Myanmar.
Her personal sacrifice, which tore her from her young children and dying British husband and eloquent pleas that the nation's long-suffering population should have "freedom from fear" won her a place among the world's most lauded peacemakers.
Yet since her release from house arrest in 2010, Suu Kyi's role has been recast from a defiant human rights defender to a hard-nosed political actor preparing to lead her opposition party into elections later this year.
The Nobel laureate "has been a huge disappointment in her continuous failure to stand up for human rights" in Myanmar, said Phil Robertson, deputy Asia director for Human Rights Watch.
While Myanmar's government carries the main responsibility for the plight of the Rohingya in the country, Robertson lamented the veteran activist's failure to use her "moral authority" to press for a better deal for them.
The plight of the Rohingya, one of the world's most persecuted minorities, has worsened dramatically since 2012 when communal bloodshed left scores dead and some 140,000 Rohingya confined in miserable camps.
The violence triggered a wave of deadly anti-Muslim unrest in Myanmar and coincided with rising Buddhist extremism that has further entrenched animosity towards the minority.
Hardline monks have promoted legislation seen as targeting Muslims including plans to introduce local family planning regulations and a move to withdraw "white card" identity documents mainly held by the Rohingya.
Suu Kyi's National League for Democracy says it is firmly against the controversial religious bills, which are seen as discriminatory to women and minorities.
Encircled by a hostile Buddhist majority, which also restricts their travel and work, the Rohingya have taken to boats in increasing numbers headed for Malaysia.
However her spokesman was more forthcoming, telling AFP last week that the Rohingya were "entitled to human rights".
Against a backdrop of visceral hatred towards the Rohingya and looming polls, Suu Kyi must play an "intricate game of political chess", says Peter Popham, author of a biography of the opposition leader.
But Popham said the implication in foreign media that she had failed to speak out was "to some extent unfair" citing speeches during international trips that highlighted problems in Rakhine "very prominently."
. Tags: #