Myanmar`s Rohingya Muslims: a stateless people trafficked across Southeast Asia
2015-05-12 09:52:00 |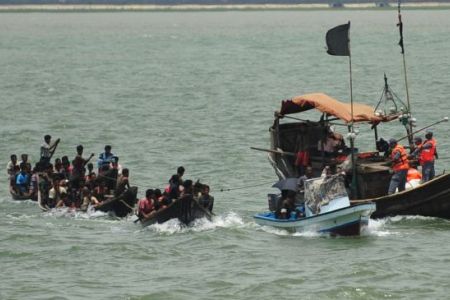 Small boats carrying Rohingya refugees, a Muslim minority from Myanmar victim of persecution and abuse.
More than 2,000 boat people from Myanmar and Bangladesh, Mostly Rohingya, have been rescued off the coasts of Indonesia and Malaysia since Sunday.
Scores more have been found dazed and malnourished across southern Thailand this month, Free Malaysia Today reported.
Who are Rohingya People?
The Rohingya are a stateless Muslim ethnic group viewed by the United Nations as one of the world's most persecuted minorities.
Using a dialect similar to that spoken in Chittagong in southeast Bangladesh, the Sunni Muslims are met with hostility by many in majority Buddhist Myanmar who view them as illegal immigrants and refer to them as "Bengali".
More than a 1.3 million Rohingya live in Myanmar, according to the government. Most live in impoverished western Rakhine state, but are denied citizenship.
There are also estimated 300,000 Rohingya living in Bangladesh's southern coastal district bordering Myanmar, the vast majority of whom have fled Myanmar in recent decades. But Bangladesh recognises only a small portion as refugees and regularly turns back those trying to cross the border.
Human Rights groups say many of the unregistered Rohingya in Bangladesh lack access to basic healthcare and are on the verge of starvation, leaving them as easy targets for human traffickers.
Why are they running to find asylum?
Most of country's 1.3 million Rohingya Muslims live in apartheid-like conditions. In 2012, fierce communal violence between Myanmar's Buddhists and Muslim, massacre of Rohingya minority in Rakhine state by the Buddha extremists got the global attention. Myanmar Government labeled them illegal settlers even though they have lived in the country from centuries.
More than 140,000 Rohingya are living in refugee camps since an outbreak of violence between the Majority ethnic Arakanese Buddhists and Rohingya in 2012.
The majority of the camps are in squalid conditions and the population relies heavily on international assistance to survive.
The Rohingya people have long been treated as "foreigners" by Myanmar's Buddhist majority.
But the Rohingya are not officially recognised, partly owing to a 1982 law stipulating that minorities must prove they lived in Myanmar prior to 182, before the first Anglo-Burmese war, to obtain nationality.
Many Rohingya say their people were in Myanmar long before then, but while there have been suggestions from the authorities that citizenship could be granted to those with a long-standing link to the country, proving a Myanmar heritage will be difficult.
How many are displaced?
The UN refugee agency says well over 120,000 have fled since the 2012 violence, an exodus that is gathering pace.
The organization estimates 25,000 people from Myanmar and Bangladesh have taken to boats headed south in the first three months of this year alone.
An estimated 53,000 left in 2014, braving the sea crossing to southern Thailand with many headed for Malaysia and beyond.
Hundreds Rohingya Muslims die at sea every year.
Of those who survive, many fall into the hands of people traffickers in neighboring Thailand which has become a hub for the trade in people often with government, police and navy officials' involvement in the multi-million dollar trade.
Dozens of shallow graves believed to belong to Rohingya and Bangladeshi migrants have been unearthed in southern Thailand since early May.
. Tags: #
Anti-Muslim
#
Rohingya-Muslims
#
Genocide-of-Muslims
#