Myanmar: Government withdraws voting rights of Rohingya Muslim minority.
2015-02-14 09:46:11 | Al Muslim News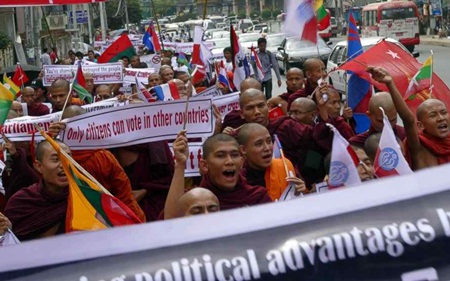 Myanmar Government spokesperson said that identity cards for people without full citizenship, including Muslim Rohingya, snatching away voting rights handed to them just a day earlier after extremist monks protested the move. Few Rohingya are full citizens, but most hold temporary national identification cards known as white cards. They were able to vote in a referendum to approve Myanmar's military- referendum on amendments to the constitution. The Government takes this step after extremist Buddhists and some political leaders in Myanmar have threatened to hold mass rallies to protest a parliamentary decision giving the Rohingya ethnic minority voting rights in a referendum to amend the constitution. Most of country's 1.1 million Rohingya Muslims live in apartheid-like conditions. In 2012, Massacre of Rohingya minority in Rakhine state by the Buddha extremists got the global attention. Many in Myanmar think them illegal settlers even though they have lived in the area for centuries..
Tags: #