Myanmar bans Rohingya Muslim MP from contesting election
2015-08-25 07:03:31 | Al Muslim News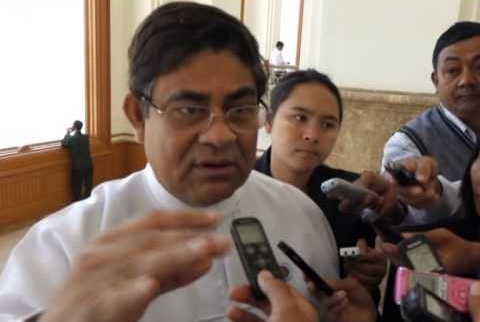 Shwe Maung, an ethnic Rohingya member of Myanmar Parliament who represents Rohingya Muslims of Rakhine State
One of five parliament members from Myanmar's Muslim Rohingya minority who have sat in the country's national and regional parliaments since 2010 has been barred by Myanmar election authorities from contesting the upcoming Nov. 8 national election.
Shwe Maung of the ruling Union Solidarity and Development Party (USDP) was blocked from running in his Rakhine state constituency despite being elected there in 2010 because authorities say his parents were not citizens, a claim he denies, Anadolu Agency reported.
"Both my parents received National Registration Cards in 1957 when that was the only ID that existed," he told the Myanmar Times Monday. "It is very clear we're citizens."
He added that he would appeal the decision.
He had planned to run as an independent candidate after the USDP rejected his application to run on behalf of the party.
He also said that his father was an officer in the country's police force.
A rights advocacy group made up of parliamentarians from the Association of Southeast Asian Nations (ASEAN) trade bloc blasted the decision Monday.
"The election commission's claims are beyond ridiculous. And what's more, this decision actively undermines the democratic process," said Charles Santiago, a Malaysian MP who serves as chairperson of ASEAN Parliamentarians for Human Rights.
"The right to stand for election is as fundamental as the right to vote and cannot be denied on the basis of religion or ethnicity," he added.
The Rohingya minority of roughly one million have faced systematic persecution for decades, but it is only recently that the government has moved to exclude them from taking part in elections.
Hundreds of thousands were disenfranchised earlier this year when authorities withdrew temporary citizenship documents, known as white cards, held by many Rohingya.
In the flawed 2010 election, many Rohingya voted in favor of the military-backed USDP party.
Since then communal violence led by Buddhists has forced tens of thousands of Rohingya and other Muslims from their homes and killed hundreds.
The violence has been accompanied by a popular hate speech campaign against Muslims spearheaded by prominent Buddhist monks. Protestors have also taken to the streets to call for the Rohingya's disenfranchisement.
In other cases, they have demanded the expulsion of aid agencies assisting displaced Rohingya and condemned the group's inclusion in a national census.
. Tags: #
Anti-Muslim
#
Rohingya-Muslims
#