Myanmar arrests Muslim publisher over printing Rohingya Colander
2015-11-28 06:13:24 | Al Muslim News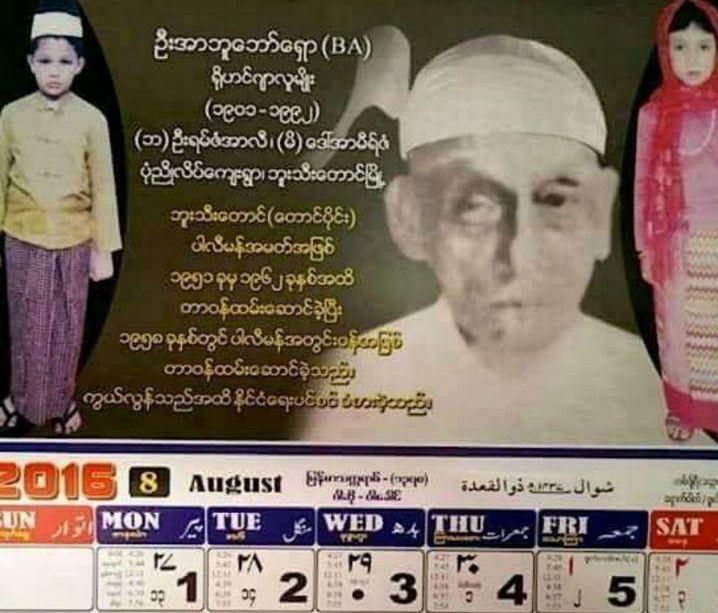 Myanmar arrests five people including Muslim publisher for releasing calendar using quotes supportive of persecuted Rohingya Muslim minority
Myanmar Authorities has arrested a Muslim publisher and four his colleagues on Wednesday for printing a calendar that used quotes to support the country's persecuted Rohingya Muslim minority.
It has angered Buddhist extremists who regard the Rohingya people as illegal immigrants and insist that they should be referred to as "Bengalis" despite living in the Burma (Myanmar) from centuries.
Kyaw Kyaw Wai—the owner of the Kyaw Printing House in the commercial capital Yangon—and four his worker had been detained over the weekend and paid a fine of 1 million kyat (U.S. $770) each after pleading guilty to publishing materials that could damage national security, under Myanmar's 2014 Printing and Publishing Law.
The Kyaw Printing House printed more than 700 copies of the calendar, which featured the phrase "Rohingya is an ethnic group" in Burmese, English and Arabic, according to local media reports. It also refers to a 1950s era "Rohingya radio channel" and cites a former prime minister U Nu to debunk the official view that the Rohingya are not a real ethnic minority.
The Rohingya people are denied citizenship under a 1982 law that has been widely condemned by rights groups.
The five face up to two years in prison for causing "fear or alarm to the public".
It is the latest instance of authorities arresting people at the behest of Buddhist extremists who preach that Myanmar is under threat from Islam.
Htin Lin Oo, a prominent leader of National League for Democracy (NLD) party, was jailed after a speech last October in which he criticised the use of Buddhism to justify extremism.
National League for Democracy is due to take power around late March after winning a landslide victory in a November election. Spokesperson Win Htein has vowed the party will make releasing political prisoners a "top priority".
Rohingya Muslim community lives under apartheid-like conditions in western Rakhine state following mob violence led by extremist Buddha Monks in 2012, left more than 200 dead and tens of thousands homeless, with the Rohingya bearing the brunt of the violence, according to rights groups.
More than 140,000 Rohingyas were displaced during the 2012 unrest and now live in squalid camps in Rakhine state, while thousands of others have fled persecution in the Buddhist-dominated country on rickety boats in recent years.
. Tags: #
Muslim-minorities
#
Rohingya-Muslims
#