Muslim veiled student named best-dressed female at US high school
2015-07-01 20:10:45 | Al Muslim News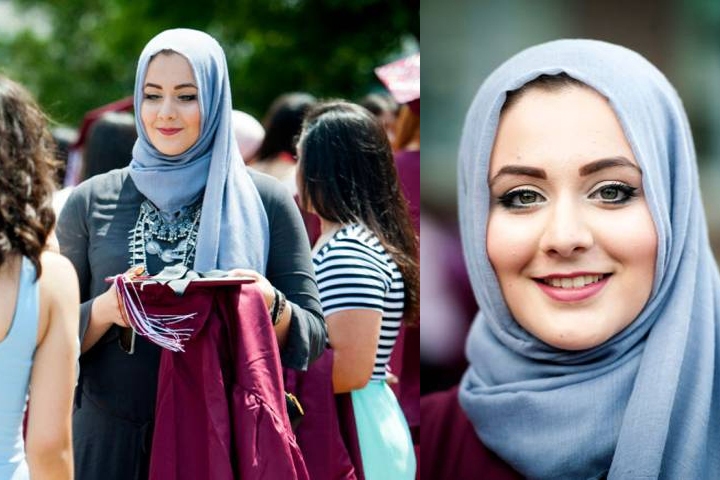 Abrar Shahin, who is of Palestinian descent and wears Hijab has been named best dressed among Clifton High School seniors, New Jersey.
Blending traditional and modern trends to create modest style, a New Jersey Muslim girl has been named best-dressed senior student, breaking down negative stereotypes of women wearing the Islamic headscarf.
The senior class pick for best-dressed female senior at Clifton High School sports a black skirt and skinny jeans, ankle-high boots and a cropped white blazer in her yearbook photo. Her makeup is just about perfect.
But there is one other fashion accessory that makes Abrar Shahin stand out: a black, white and blue-green patterned scarf — a hijab — that wraps around her head and drapes around her neck.
"There are always cheerleaders who win and popular girls, so I was very surprised it was me, being a hijabi", Abrar Shahin said.
Shahin, who has a clothing-store job in Paramus and plans to shatter stereotypes about Islamic fashion while also keeping true to her religious tradition.
The "best dressed" vote also shows how acceptance has grown at one of the largest and most diverse high schools in the state. The class of 2015, which graduated Friday, includes many immigrants and first-generation students whose families hail from across the globe.
Lindsey Cinque, a French teacher who is yearbook and senior class adviser, said that Shahin's award showed that students can look beyond labels to honor someone's accomplishment. Cinque broke the news to Shahin in class about her win, which seniors decided by writing down the name of any one of their peers.
"In a class of 800 people, it's definitely a huge honor that they picked her," Cinque added.
It's not clear how many votes Shahin got or whom the votes came from. The best dressed male, Abraham Zeidan, also happens to be Muslim.
Shahin said her friends are from many backgrounds, while Cinque noted that all different people in her class would complement Shahin on her clothes and style.
Although Shahin was surprised by the win, her French teacher of three years said her great fashion sense was clear to her and to other students.
Sonya Nasser, owner of Arabella Couture, a women's clothing store in Paterson said people used to look down on young women for wearing a hijab. A "best dressed" honor for a hijabi at an American public high school means times are changing, she said.
"It sends the message that we are able now to set trends and be respected for what we stand for at the same time," she said.
. Tags: #
Hijab
#
Head-scarf
#
America
#