Muslim groups sue Myanmar president over Rohingya genocide
2015-10-07 14:11:28 | Al Muslim News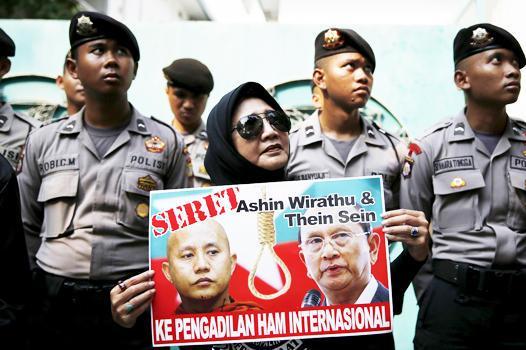 A protestor holds a poster of Myanmar`s President Thein Sein and Ashin Wirathu, a extremist Buddha monk in front of the Myanmar embassy in, Indonesia
A coalition of Muslim groups has filed suit in the New York, US against Myanmar President Thein Sein, and other government officials for alleged crimes against the Rohingya minority, which they say amount to genocide.
The complaint filed on Thursday in Manhattan federal court accused Thein Sein and top officials of planning and instigating "hate crimes and discrimination amounting to genocide" in Myanmar (formerly Burma).
The suit comes a month ahead of critical elections, seen as a test of the nation's nascent democracy.
The civil lawsuit was filed by Burma Task Force, a coalition of 19 Muslim groups, and a member of the Rohingya communitywho fled Myanmar for the United States.
According to the plaintiffs, Muslim Rohingya are "subjected to genocide, torture, arbitrary detention, cruel, inhuman and degrading treatment" by officials controlled by President Thein Sein and his ministers.

It seeks compensatory and punitive damages for alleged violations of the Alien Tort Statute (ATS), a U.S. law often invoked in lawsuits alleging human rights abuses.
They claim in the suit that they and relatives "were subjected to genocide, torture, arbitrary detention, cruel, inhuman and degrading treatment by the officials."
Gurpatwant Pannun, a lawyer whose firm filed the complaint, said the summonses were yet to be delivered. Once they were, Pannun said, the president would have 21 days to respond.
Pannun told AFP they believed Sein should be declared responsible for genocide.
"Once it is declared genocide it becomes [the responsibility of] the US administration to prosecute those who are responsible for genocide because there is a convention that the US has signed," Pannun said.
Myanmar does not consider the Rohingya to be citizens, rendering them effectively stateless, while denying that it discriminates against them or that they are fleeing persecution.
In 1982, despite having lived in Myanmar's Rakhine State for hundreds of years, Rohingyas were stripped of their citizenship and reclassified as foreign, according to the lawsuit.
Their plight became worse when a tide of anti-Muslim sentiment swept through the country a year after the military ended its rule in 2011, morphing into communal violence.
Hundreds of Rhingyas Muslims were killed in bloody riots and more than 140,000 were displaced in Myanmar's western Rakhine State.
During the flare up of the boat people crisis in Asia, Myanmar denied that its treatment of the Rohingya caused their exodus.
Religious and ethnic tensions are rising ahead of the November 2015 elections in Myanmar. The government has barred most Rohingyas from voting and registering as candidates, drawing criticism from western countries and undercutting Myanmar's efforts to portray the poll as its first free and fair election in 25 years.
. Tags: #
Rohingya-Muslims
#
America
#