Muslim community shows more trust in Mike Baird than in Australian Prime Minster
2015-07-02 13:09:26 | Al Muslim News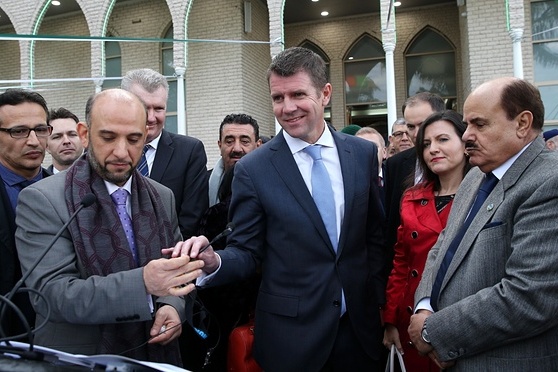 Mike Baird (centre) addresses thousands of Muslims surrounding the mosque in the Sydney suburb of Lakemba, last year
New South Wales Premier Mike Baird may succeed where Australian Prime Minister Tony Abbott has apparently failed. While most of the Islamic organisations in the country have rejected the deradicalisation efforts by the government, Baird seems to have a more sympathetic outlook about the Muslim community in the country.
Baird remembered the Sydney siege in December. He spoke during a Ramadan dinner on Monday.
He said young Muslim leaders told him that they had never felt more a part of the Australian society than they did during the Lindt Café situation. According to Baird, it was "an incredible thing" to happen, International Business Times reported.
Major Islamic social services have virtually boycotted the federal government's deradicalisation efforts, either fearing any association with the Abbott government, or dismissing the programs as poorly funded and designed. In Victoria and NSW, the state governments have been taking notes.
Several Muslim leaders find Baird having a "different" perspective about dealing with the Islamic population in Australia. According to Kuranda Seyit, Baird has a totally different understanding about radicalisation. Seyit said that the Victorian government viewed it as a community issue instead of viewing it as a law enforcement issue.
The Board of Imams Victoria spokesman Sheikh Mohamadu Nawas Saleem said that it reduced the anxiety of Muslims in the country when premiers like Baird avoided talking like the Australian prime minister on the issue of radicalization. He said that that Muslims would likely to be more forthcoming to accept the programs once those were "up and running."
"Baird, the guy is different," says Randa Kattan, the chief executive of the Arab Council of Australia and a persistent critic of what she calls "Arab-phobia".
Baird earlier announced that asylum seekers would have travel concessions on public transport in NSW. He said that Australia, as a "lucky country," should share its luck to become a "great country."
. Tags: #