Mother of Palestinian baby killed in arson attack dies
2015-09-07 11:49:06 | Al Muslim News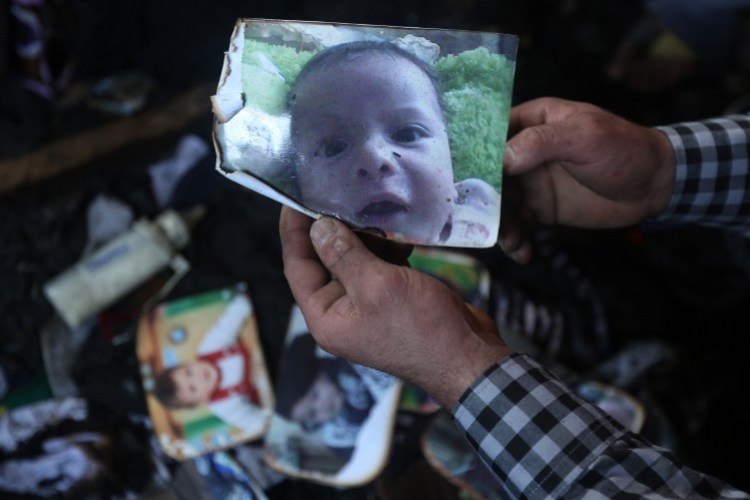 A man shows a picture of Reham Dawabsheh`s 18 months old baby, had died after firebombing of his home by Jewish settlers.
The mother of an 18-month-old Palestinian baby burned to death in an arson attack in the occupied West Bank by Jewish settlers, has herself died from injuries sustained during the attack.
Riham Dawabsha, 26, the mother of 18 month old Ali Saad Dawabsha, who was killed when Jewish extremists firebombed his house, succumbed to her injuries at night on Sept.6 in an Israeli hospital, had suffered third-degree burns to at least 80 percent of her body in the July 31 firebombing, Al Jazeera reported.
Israeli settlers are accused of throwing flammable liquids and Molotov cocktails inside two homes in the village of Duma in that incident.
Saad, Dawabsheh's husband, died from his injuries eight days after the attack while Ali's four-year-old brother Ahmed is still in hospital.
The family's small brick and cement home was gutted by the fire and a Jewish Star of David spray-painted on a wall along with the words "revenge" and "long live the Messiah".
Nickolay Mladenov, the UN Special Coordinator for the Middle East Peace Process, said he was "saddened" by Dawabsheh's death.
"Our thoughts and prayers are with the family and especially with little Ahmed, now orphaned due to this heinous act.
"I reiterate and strengthen my earlier call for justice... I am nevertheless concerned by the lack of progress in identifying and prosecuting the perpetrators of this outrage.
"The tragedy of the Dawabsheh family serves as a shocking example of the destructive nature of
extremism," Mladenov said.
The Palestinian foreign ministry in the West Bank city of Ramallah said it had submitted a request to the Hague-based International Criminal Court to probe the firebombing and "settler terrorism".
Several suspects have been arrested after the Dawabsheh family's home was targeted, killing Ali Dawabsheh, Reham's toddler son, and prompting anger among the Palestinian community.
Last month, thousands of mourners, many waving Palestinian flags, turned out to lay Saad Dawabsheh to rest in an emotional ceremony that later erupted into clashes with Israeli border police.
There has been a series of nationalist hate crimes, known as "price-tag" attacks, by suspected Jewish settlers.
Such groups have warned in the past there would be a price to pay for any action by Israeli authorities they regard as hostile to the Jewish settlement movement or to far-right religious beliefs.
Last month, a tent was torched and Hebrew-language graffiti sprayed in a bedouin village in the West Bank in what residents and a nongovernmental organisation said was another suspected attack by Jewish settlers.
The village is near an illegal Jewish settlement outpost where police detained several people in raids linked to the July firebombing, before later releasing them.
The graffiti, which read "administrative revenge" seemed to refer to the internment without charge - known as administrative detention - of three alleged Jewish activists after the July 31 arson attack.
The suspects have not been publicly accused of the Duma firebombing, but of unspecified links to a "Jewish extremist organisation".
. Tags: #
Jewish-settlers
#
Middle-East
#
Israel
#
Palestine
#