Moroccan scientist wins the African Innovation Prize 2015
2015-05-15 08:55:36 |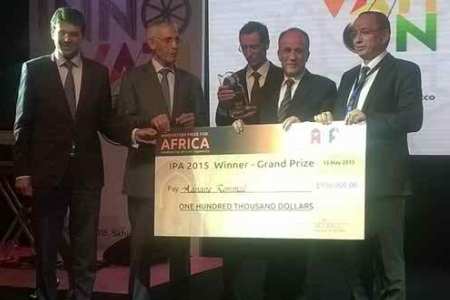 Professor Adnane Remmal receiving AIF Award 2015 at Skhirat, Mocrocco.
This year's Innovation Prize (IPA) for Africa has been awarded to Moroccan researcher Adnane Remmal. The US $100,000 prize money recognizes his research of a natural alternative to normal antibiotics for livestock.
In a ceremony hosted by the African Innovation Foundation (AIF) in collaboration with the ministry of industry, trade, investment and digital economy in Skhirat, Morocco. Biotechnology professor Remmal was awarded the IPA in recognition of his development that provides solutions to farmers to improve livestock output whilst taking into account consumer health needs.
Remmal impressed the expert panel of judges, competing with 10 innovations spanning the health, environment, technology and agricultural sectors.
Prof. Remmal's researched on an anti-microbial formula, which can either be added to the animal's feed or to drinking water, was developed from naturally-occurring molecules he found had anti-bacterial, anti-parasitic and anti-fungal properties.
"My innovation provides farmers with solutions to improve their production," Adnane Remmal said.
"It is cost-effective and can be easily adopted, giving farmers increased benefits without the side effects of antibiotics." he added.
The African Innovation Foundation hopes the IPA Awards will give the particular projects a boost and also help promote social and economic transformation Africa-wide. The Awards ceremony was attended by large number of prominent African figures, Government officials, Diplomats, AIF sponsors, innovators, entrepreneurs, local and international media.
. Tags: #
Arab-World
#