More than 30,000 civilians starving in South Sudan war zones
2016-02-08 09:53:42 | report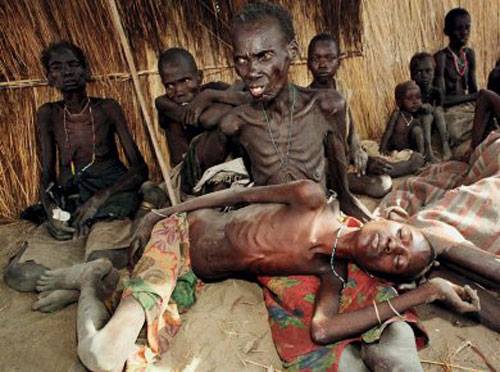 1.5 million people fled to other place and rest are in miserable condition
Juba -- South Sudanese civilians are dying due to starvation as warring forces flout a peace deal, the chief ceasefire monitor said he was "staggered" at conditions after two years war.
The UN says thousands have fled in recent fighting in the previously peaceful southern farming region around Mundri, close to the border of Uganda.
A former Botswana president, "I am staggered that things have been allowed to get this bad, and I continue to urge you, the leaders of South Sudan, to do whatever you can to ensure the humanitarian effort is successful," said Festus Mogae, who is pushing efforts to form a unity government.
Fighting continues, and the conflict now involves multiple militia forces who pay little heed to paper peace deals, driven by local agendas or revenge attacks.
East Africa's IGAD block last week called on rival forces to allow food into conflict zones on the brink of famine, where aid workers have warned tens of thousands may be dying of starvation.
"This morning one of the ceasefire monitoring teams, which recently visited Mundri, found people there are starving to death," Mogae said.
The government and rebel sides have been accused of perpetrating ethnic massacres, recruiting and killing children and carrying out widespread rape, torture and forced displacement of populations to "cleanse" areas of their opponents.
A report by JMEC revealed that the latest in a long list of atrocities, detailed how government forces suffocated some 50 people by stuffing them into a shipping container in baking heat.
South Sudan is the world's youngest country, breaking away in 2011 from Sudan after decades of war.
In 2012, the two nations battled in a six-month border conflict. In December 2013, civil war erupted in South Sudan.
"Every day we spend here, I think of the children I met growing up without the chance of education, the chance of bettering their own lives denied through no fault of their own," Mogae told leaders.
"When will independence make a difference for these people?"
. Tags: #
Almuslim-News
#