Millions mourn at Mumtaz Qadri funeral
2016-03-01 10:05:26 | Muzamil Abid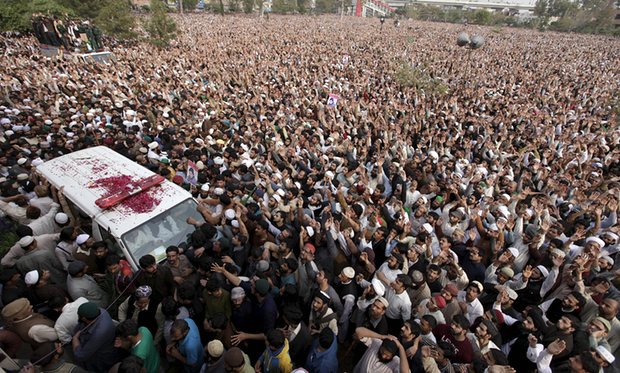 The funeral took place in Rawalpindi, Pakistan, of the former bodyguard executed for killing Punjab's governor over his opposition to blasphemy laws.
Security was tight as more than 2 millions mourners were there to pay their last respects and get blessings from funeral of Mumtaz Qadri.
Qadri was hailed as a hero by Pakistan and all over the Muslim world for the 2011 killing of Salman Taseer, who wanted to reform the blasphemy laws in Pakistan.
Salman Taseer supported a christian girl who commited against blaspehmy law and try to change the law.
Salman Taseer was a liberal and westren minded person and was away from Islamic teachings.
Thousands of police are deployed along the route of the funeral procession and in the nearby capital, Islamabad.
There was complete ban on media by government to give the coverage of funeral.
Qadri supporters threw rose petals on his coffin, Reuters reports from Liaquat Bagh park where the funeral was being held.
His execution also prompted protesters to take to the streets in cities in Pakistan.

. Tags: #