Mandatory Sun Worship Yoga Angers India Muslims
2015-06-10 08:49:26 | Al Muslim News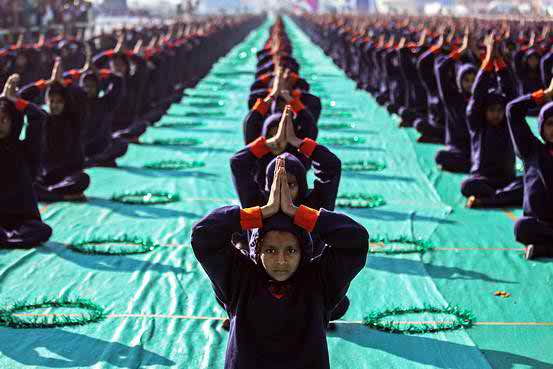 Indian School children practicing Surya Namaskar and Yoga in morning

Plans by the Indian government to make Surya Namaskar and yoga compulsory in schools have sparked anger of the country's Muslim community that deemed the calls provocative.
"Surya Namaskar should not be made mandatory in government schools, because Muslims bowed only before Allah," a member of All India Muslim Personal Law Board (AIMPLB) told, OnIslam reported.
"The board has the option to move the court and to launch a movement against the proposal."
The latest controversy about Surya Namaskar and yoga has erupted after calls by Indian Prime Minister Narendra Modi to make June 21 an "International Yoga Day".
Opposing Modi's controversial calls, AIMPLB announced plans to launch a nationwide campaign against such Hindu exercises in schools.
"Narendra Modi is functioning like the PM of RSS [Hindu right-wing organization Rashtriya Swayamsevak Sangh] and not as the PM of India… It is dangerous for the secular fabric of the country," AIMPLB spokesperson Maulana Abdul Raheem Qureshi reportedly told the Indian Express.
While the government claimed it was a yogic exercise aimed at improving students' health and concentration, Muslims slammed the government's move, saying it is a religious program imposed on the children of minority communities.
Pushing for cancelling Modi plans, the Muslim board warned to take the issue to the court to abolish the "unconstitutional" practice.
Moreover, the AIMPLB formed Majlis-e-Amal (action group) that aims at to "stop Hindu religious practices like yoga and Surya Namaskar in schools, oppose imposition of other religious practices through school curriculum, make efforts to ensure that Shari'ah law is implemented among Muslims and safeguarding religious freedom".
"The board's view on 'Surya Namaskar' and 'yoga' would be put forth by the committee along with the explanation why they go against the beliefs of the Muslims, and why they should not be imposed on their children," executive council member Maulana Khalid Rasheed Firangi Mahali told The Hindu.
According to Hindu beliefs, Surya Namaskar is a sequence of 10 simple asanas (Yoga postures) performed gracefully.
Surya Namaskar is Sun Salutation that is traditionally performed at dawn facing towards the rising sun. Its roots can be traced in the yoga philosophy of Vedic traditions.
Large Hindu population worships Surya, the Hindu solar deity. It is believed that the routine helps develop all five personality levels, namely physical, prana (prana is the Hindi word for "life force"), mental, intellectual, and spiritual.
Hindus believe this helps individuals to lead a very healthy lifestyle with a profound sense of well-being.
There are some 180 million Muslims in Hindu-majority India, making up 13 percent of the country's population. Christians make up less than 3 percent.
. Tags: #
Indian-Muslims
#