'Makkah to Madinah' Photographic Journey of Hijrah launched at National Geograph
2015-03-28 06:03:03 | Al Muslim News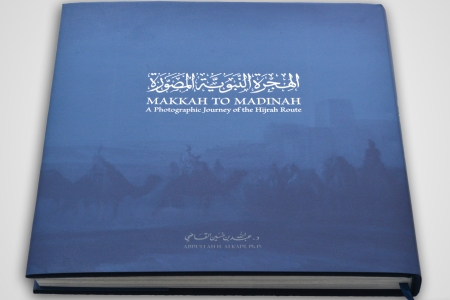 Makkah to Madinah, a book which charts the exact route of the Islamic Hijrah was launched at the National Geographical Society, UK.
A Photographic Journey of the Hijrah Route 'Makkah to Madinah' is a unique and unrivalled piece of work of more than a decade's worth of research, field expeditions and analysis by author Dr. Abdullah H. Alkadi.. Photographs included in this beautiful, were taken along the journey by internationally renowned photographers including Peter Sanders, Asian Image news reported.
Prophet Muhammad (Peace Be Upon Him)'s migration from Makkah to Madinah was a religious one, animated by a quest for freedom - the freedom to worship. This love of religious freedom is elemental, and it unfolds in the teachings of tolerance for others faiths that he instilled in his followers; it has allowed countless other people of faith to flourish, and to worship freely in the lands where Muslims ruled.
Dr Alkadi, Vice President for Studies, Development and Community Service, as well as being a Professor in the Department of Urban and Regional Planning at the College of Architecture and Planning at the University of Dammam, Saudi Arabia. Dr Alkadi a descendent of the noble Bani Hashim clan is a highly respected scholar of religious and quantitative sciences; spent many years travelling to the challenging terrain so he could accurately as humanly possible, track this monumentally historic route.
He relied on the latest GPS technology, ancient maps and anecdotes from interviews with the locals along the way, to map this historic pathway.
The book features pictures from the 400km route by renowned photographer Peter Sanders.
The Hijra is described as the migration of the Prophet of Islam, Hazart Muhammad (Peace Be Upon Him) and his followers took from Makkah to Medina in June 622 CE.
Dr Alkadi said he envisaged it would take a year to conduct the research. But then found it would take a little longer to accurately identify the exact route of the migration.
"I started in 2003 in a bid to identify the route of the exact migration. It was surprising as I thought it would not take so long to research this.
"It proved difficult because there are so many narrations which mention different landmarks.
"Some narrations are quite detailed whilst others are very brief so collating this information to decide the exact route was time-consuming."
"I spent two years searching for one place in particular, I continued alone, I lost my shoes and walked on injured feet!
"In fact, the majority of the route was covered on foot, as the terrain doesn't allow for cars and many of the discoveries were made because we were walking, such as pottery, milestone markers and ancient buildings."
He conducted many field expeditions, cross-checking landmarks and calculating exact distances.
He also examined every available resource from the Hadith and Seerah literature (Life of the Prophet) to historical documents maps from the eighteenth century.
After many years Dr Alkadi feels he reached his original goal: to determine as precisely as possible the exact route of the Prophet's Hijrah.
In the book he lists specific points and references and links them to points in history, "I spent many weekends travelling to the area but it was important from the onset to study all previous attempts.
Photography for the book is by Peter Sander. Dr Alkadi said, "Originally I was not paying intention to the pictures as it was important for me to research the route itself.
"Then I took my own camera. Then after we decided to publish the book and we invited Peter.
"He is a good friend of mine and travelled for days to specific locations along the route."
Dr Alkadi said he was confident he has also uncovered myriad monumental landmarks along the way. And it is these landmarks which will feature in future publications.
He was delighted to be able to share his findings about the Hijrah to readers across the world, "There is no other book out there like this; in fact, the only other published papers on this subject are written by me and publicly available. I'm really pleased that I can finally share the journey with a UK audience.".
Tags: #