Love Jihad, but not actually
2015-02-13 07:53:41 | Al Muslim News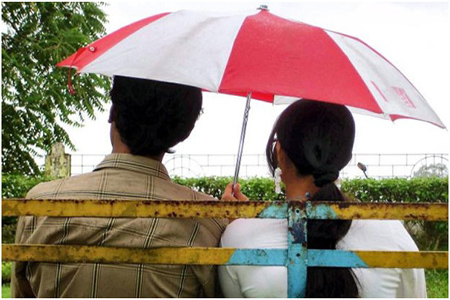 Love Jihad, is so-called activity under which young Muslim boys and men reportedly target young girls belonging to non-Muslim communities for conversion to Islam by marriage.
Arising in a background of national religious tension, including strong cultural prohibitions against interfaith marriage. the alleged activity is based on the power of emotional appeal in religious conversion. The controversial issue has garnered international attention. Official investigations launched in 2009, 2010, 2012 and 2014 have found no evidence of the activity
Bharatiya Janata Party Leader Govardhan Sharma is contesting for a fifth term is hoping to sidetrack them with a different issue — love jihad — a term coined by right-wing groups to denote Muslim boys' attempts to befriend Hindu girls, followed by offers of marriage and later the alleged forced conversion to Islam.
Sharma's election speeches and interviews are infused with references to "us and them". From a ban on shopping, using mobile phones, observing a strict dress code, Sharma is full of advice on how to prevent young Hindu girls from getting "trapped". Sharma and his supporters from the Vishwa Hindu Parishad, also a part of the Sangh Parivar, an umbrella of Hindu nationalist groups, claim to have rescued thousands of Hindu women from the clutches of the "other" over the last few years.
In fact, many within the BJP acknowledged that the love jihad issue was an 'own-goal'.
The propaganda has been further undermined by an alleged victim of love jihad in Meerut — a case that right wing groups have harped much upon — recanting her earlier statement that she was kidnapped, gang-raped and forced to convert to Islam. The 'victim' recently told the police that she had eloped with a Muslim man, who she was later forced to implicate under family pressure. Her family has also admitted to being paid off by some right wing groups.
Incidents that Charu Gupta, a history professor at Delhi University, who has researched issues of gender and sexuality, show that while in the short term, the specter of love jihad may have been raised with elections in mind, "In the long term, the uproar indicates the unease felt over the growing number of inter-religious marriages and women's freedom. It amounts to complete control over the Hindu girls' movements and reveals an anxiety over women making independent choices. Portrayal of Hindu women as victims of false love shows the need felt not so much to protect them, but to control them by restricting their movements. Women are duped by Hindu men as well as men of other religions, and each case needs to be dealt with individually and not regarded as some organised conspiracy".
. Tags: #
Anti-Muslim
#
Islamophobia
#
Hate-speech
#
Indian-Muslims
#
Discrimination
#
India
#