Londons west town appoints first Muslim mayor
2015-06-01 07:15:47 | Al Muslim News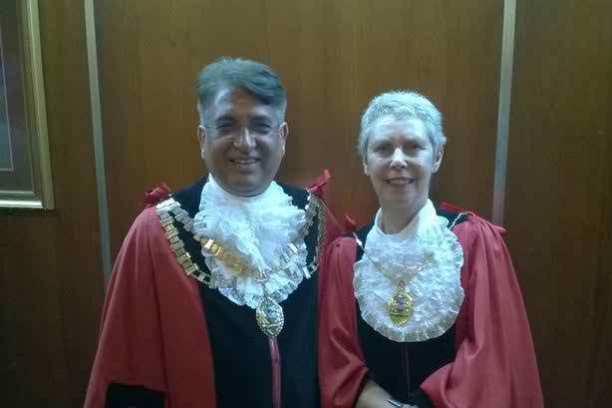 Hounslow mayor Nisar Malik and his deputy Myra Savin
London's west borough of Hounslow's first Muslim mayor has made defusing community tensions by bringing together people from all backgrounds.
"I think there's a little bit of work needed from both sides -Muslims and non-Muslims- to defuse the pressure, which comes largely from misunderstanding," Nisar Malik, who runs a string of halal counters at Asda supermarkets, told fellow councilors as he was sworn in last Tuesday, Get West London website reported.
"By mixing, talking and engaging with each other I believe we can achieve that and make this borough an even better place in which to live.
Malik had arrived in London from Pakistan as a teenager in 1976, and after running a Heathrow import/export firm opened the butchers Haji Baba in Kingsley Road, close to Hounslow East tube station.
The business proved such a success he persuaded Asda to let him open a halal counter and he now runs 15 such counters at branches of the supermarket, employing more than 130 people.
"My message to all communities would be don't tolerate so much you start tolerating intolerance. As Muslims, we tolerate some things we shouldn't be tolerating, and other communities tolerate things they shouldn't be tolerating."
Councillor Ed Mayne, said Mr Malik was making history by becoming the first Muslim mayor in the 50 years since the borough's formation.
Despite Islam being Hounslow's second biggest faith behind Christianity - with Muslims accounting for 14% of the borough's population according the 2011 Census - Mr Mayne pointed out there had been no councillors from the faith here as recently as 2014.
. Tags: #
UK
#