Italian cycles Rome to Istanbul by bicycle in solidarity with Palestine
2015-05-06 09:32:51 |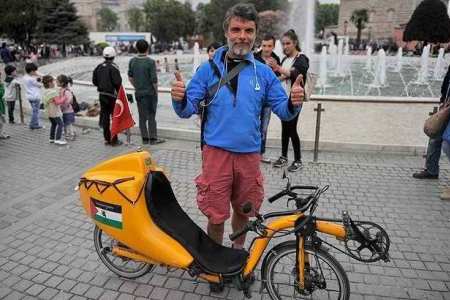 Italian cyclist Andrea De Plasio arrived from Rome to Istanbul by bicycle in a solidarity journey with Palestine
The pro-Palestine Italian cyclist Andrea De Plasio arrived from Rome to Istanbul by bicycle in a solidarity journey covering over 5,000 kilometers.
On his way to Istanbul, Plasio traveled through Slovenia, Croatia, Bosnia, Herzegovina, Montenegro, Albania, and Greece in a bike journey that lasted two months and a half, The Palestinian Information Center reported.
The Anadolu News Agency quoted De Plasio as stating that his trip was, for the most part, motivated by his sincere love for the Palestinian people and his unyielding support of the Palestinian cause.
Plasio said people everywhere in the world are sticking up with Palestinians all along their fight for freedom.
He said the trip is the concrete reverberation of a set of choices and rights of his own. De Plasio is expected to spend a few days in Istanbul before heading for a 10-day stopover in Palestine.
He expressed his wish to spend the rest of his lifetime in Palestine, saying he is very sad because his dream can hardly, if ever, see the day.
De Plasio reiterated the depoliticized nature of his standpoint, saying his solidarity with the Palestinian people stems rather from a humanitarian call launched by a cause that speaks for itself.
. Tags: #