Israeli forces storm Al-Aqsa Mosque and attacked Muslim worshippers
2015-09-17 12:09:57 | Al Muslim News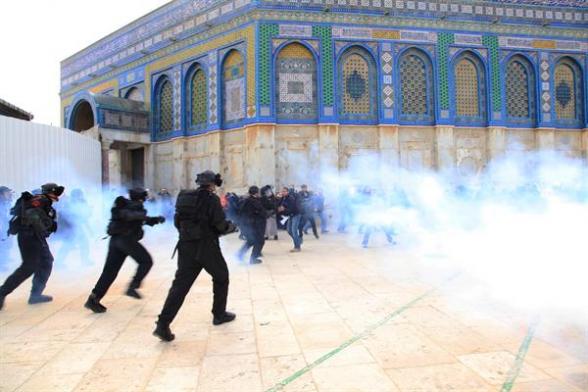 Tensions running high after Jewish extremists call on followers to storm mosque during Rosh Hashanah, the Jewish New Year
Dozens of Israeli forces on Tuesday stormed occupied East Jerusalem's flashpoint Al-Aqsa Mosque compound and attacked Muslim worshippers for the third day in a row.
Eyewitnesses told Anadolu Agency that Israeli forces fired tear gas, stun grenades and rubber bullets at worshipers near the compound's iconic Al-Aqsa Mosque and Al-Qibali Mosque.
"At least 120 Israeli special forces and police officers stormed the compound and attacked Muslim worshipers," one witness said.
"Israeli forces went up to the roof of Al-Qibali Mosque, destroyed its historical gates and fired rubber bullets and gas bombs inside the building," Omar al-Qiswani, Al-Aqsa Mosque's director, said. "They entered the mosque with their military boots and arrested a Palestinian youth after beating him."
Al-Qiswani said the mosque has been destroyed from inside because of the repeated attacks and it would take at least one year to repair.
The Palestinian Red Crescent said 26 worshipers were wounded in Tuesday's attack.
Witnesses said Israeli forces sealed the gates of Al-Aqsa Mosque and barred men and women of all ages from entering.
Tensions have been running high at the Al-Aqsa Mosque complex after Jewish extremists called on followers to storm the mosque during Rosh Hashanah, the Jewish New Year.
The Palestinian National Council on Tuesday called on the Arab and Islamic world to carry out their duty and stop the violations of the Israeli occupation forces against Al-Aqsa.
"Israel's terrorist attacks, incursions, arrests and the devastation left by these barbaric acts will not stop unless new actions and decisions are taken on the Palestinian, Arab and Islamic levels to protect Al-Aqsa Mosque," the statement said.
U.S. officials condemned the recent violence in Jerusalem.
"It is absolutely critical that all sides exercise restraint, refrain from provocative actions and rhetoric, and preserve unchanged the historic status quo on the Haram al-Sharif Temple Mount, both in word and in practice," said White House Press Secretary Josh Earnest.
During a telephone call today with Jordan's King Abdullah II on Tuesday, U.S. Vice President Joe Biden echoed the sentiment.
For Muslims, Al-Aqsa represents the world's third holiest site. Jews, for their part, refer to the area as the Temple Mount, claiming it was the site of two Jewish temples in ancient times.
Some extremist Jewish groups have called for the demolition of the Al-Aqsa Mosque so that a Jewish temple might be built in its place.
. Tags: #