Israel plan to demolish 20,000 Palestinian homes in East Jerusalem
2015-02-16 08:47:28 | Al Muslim News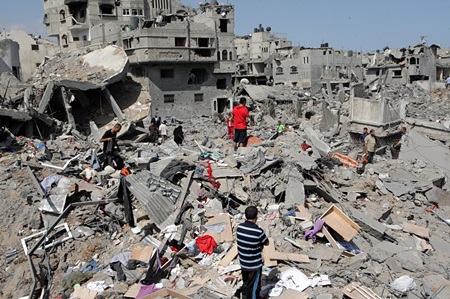 Israeli Government has shortlisted more than 20,000 Palestinian homes for demolition in East Jerusalem al-Quds, reports the Jerusalem Center for Social and Economic Rights (JCSER).
The basis behind the move is that they were built without Israeli construction licenses; housing license condition is applicable only on Palestinian people. But Jewish settlers are exempted from license to construct their houses. It is clearly indicate ambitious of Israeli Government against native Palestinian people.
Licenses are rarely permitted, as an excuse to remove Palestinians from the occupied city. Even if the licenses are approved, the center's head, Ziad Hamouri, said, they take five to eight years to be issued and cost from $30,000 t0 $50,000 each. These Licenses regulations do not apply to the Israeli settlers living in the city, he added. On February 9, Israeli media reported that Tel Aviv had seized about four square-kilometers of Palestinian land near the settlements of Kedumim, Vered Yericho, Neveh Tzuf, and Emanuel to construct 18 residential projects in these areas.
Israel is facing widespread global condemnation over its settlement construction in the occupied Palestinian lands. The EU has frequently criticized Israel for building thousands of illegal settlement units in the occupied Palestinian territories.
The Israeli settlements are considered to be illegal by the United Nations and most countries because the territories were captured by Israel in the war in 1967 and are thus subject to the Geneva Conventions, which forbid construction on occupied lands.
. Tags: #