Islamic Scholars urges moderation in issuing fatwas
2015-08-21 08:36:28 | Al Muslim News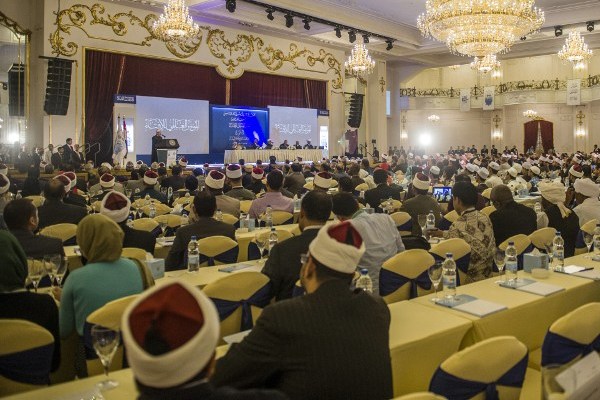 Islamic Scholars attending the opening session of the Fatwa international conference in Cairo
Top Muslim scholars meeting in Cairo, Egypt called for moderation in issuing religious edicts (Fatwa), in an attempt to counter extremist fatwas that sanction jihadist atrocities.
The muftis — often chief interpreters of Islamic law in their countries — and scholars agreed at the conclusion of the two-day conference on training for Muslim scholars and coordination on issues of Islamic law, Free Malaysia Today reported.
"You do not need to be reminded that leniency (in dealing) with fatwas that excommunicate" Muslims has resulted in "murder and bloodshed", Grand Mufti Ahmed al-Tayyeb, head of the prestigious Cairo-based Islamic Al-Azhar institution, told the conference.
In a closing statement, the Muftis called for greater attention to "renewing" the scholarship that goes into issuing fatwas and for religious decrees to take modern times into account.
The statement advocates training in modern sciences for Ulema and an emphasis on considering social norms when issuing edicts.
Muslim Ulema and Scholars and institutions like Al-Azhar, a leading centre of Sunni Islamic learning, have struggled to counter the extremist ideology of jihadists such as the Islamic State group.
They have also seen their authority wane in the Internet age, with many Muslims consulting religious websites for quick answers to queries.
The past decade has likewise seen the spread of religious television stations and programmes that often host Muslim Scholar with little formal training.
The Ulema in their statement urged the media to host only "specialised muftis" on television programmes.
The Muslim leaders stressed the "necessity of distancing fatwa institutions from partisan politics".
Egyptian President General Abdel Fattah al-Sisi has led calls for "renewing" religious discourse, but political Islamists revile him for a deadly crackdown on the Muslim Brotherhood in Egypt.
. Tags: #
Muslim-Scholars
#
Quran
#
Sunnah
#