Islamic Education in Germany Fights Radical Muslims
2015-04-25 09:16:02 | Al Muslim News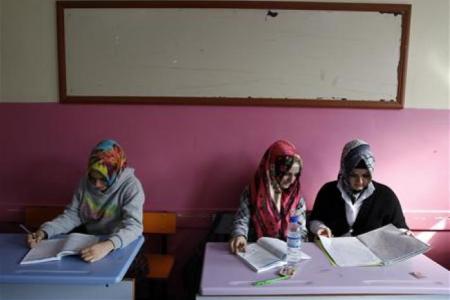 In a bid to fight extremism, Germany has been taking drastic steps to offer state-sponsored Islamic education, placing it on equal footing with Christianity and Judaism.
"A sound knowledge of Islamic theology and philosophy and psychology, and strategies of discourse and discussion," is the best antidote there is to extremism, Harry Harun Behr of Frankfurt University, told the Christian Science Monitor, OnIslam.net reported.
Behr, who is responsible for the training of future teachers of Islam in middle and high schools in Hessen, believes that Islamic lessons became essential in German schools.
Over the past years, the government has allocated €20 million to establish the country's four Islam theology centers in the most respected public universities.
"Being part and parcel of a world-famous university" means that "Islam no longer stands on the outside," said Omar Hamdan, the Palestinian Arab who heads the Islam center at Tübingen University.
"We stand on equal footing with the other theology schools."
The importance of including Islamic lessons in the school and universities curriculum has been heightened following the latest atrocities committed by extremist groups in the name of Islam.
Islamic education aims to clear misconceptions, as hundreds of European youth have joined the so-called ISIL oversees.
Germany has Europe's second-biggest Muslim population after France, and Islam comes third in Germany after Protestant and Catholic Christianity.
Germany is believed to be home to nearly 4 million Muslims, including 220,000 in Berlin alone. Turks make up an estimated two thirds of the Muslim minority.
With most Muslim preachers not born in Germany, youth are facing challenges of alienation in mosques due to language barriers.
Moreover, German-speaking preachers with little religious background pose as a threat to radicalize Muslim youth.
"I teach my future teachers to be radicals, too – in their adherence to freedom, to uncompromising attitudes against religiosity, rigid world views and gender-based hostility," Behr said.
A recent government research showed that German school text books stereotype Muslims.
Unveiled earlier last March, the project concluded that immigration and diversity were presented as problems that should be combated to attain homogenous societies.
Last December, a new study on German perceptions of immigrants to the European country showed a widespread view that Muslims are not German patriots, blowing away decades of integration of the four-million Muslims community.
According to Der Spiegel, 27 percent of respondents think that Muslims are more "aggressive than themselves", while 30 percent believe that Muslims show less importance to education.
A fifth of respondents expressed a negative opinion about Muslims making demands in Germany, with about 20 percent seeing it as a sign of disrespect and 17 percent seeing it as a sign of ingratitude..
Tags: #