Indian Muslims oppose 'forcing' of Hindutva agenda
2015-03-24 04:42:30 | Al Muslim News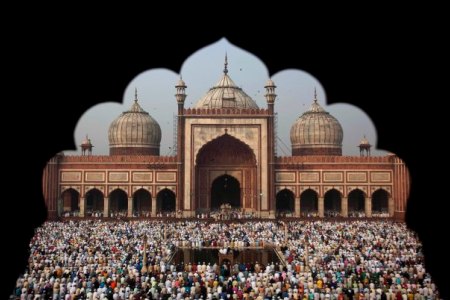 All India Muslim Personal Law Board had some tough words for the BJP government, as it questioned the Prime Minister Narendra Modi 's silence on controversial issues, including 'ghar wapasi' program to convert Muslims and Christians to Hinduism by forcibly or luring.
Indian Muslim Leaders gathered in the annual national executive meeting of the All India Muslim Personal Law Board (AIMPLB) held in Jaipur India, rejecting Hindutva agenda to convert minorities to Hinduism. The conference discussed controversial issues such as 'Ghar wapsi', love jihad, Hindutva in educational institutions and other issues concerning Muslims in India.
Hindu extremist also run a campaign to collect funds for 'ghar wapasi' for luring to minorities especially Muslims and Christians. They want as cost as per person Rs. 200,000 for Christian and Rs. 500,000 for Muslim to convert Hindu, according to the media reports.
Maulana Syed Mohammad Rabey Hasan Nadvi, President of AIMPLB said. "Muslims in India have to remain cautious so that their religious freedom should not be curtailed.
"We should involve Hindu people in our events, seminars and conferences so that misunderstanding about the Muslims can be removed, Khalid Rasheed Mahli of Imam-e-Eidgah Lucknow said.
Former Chairman of Delhi Minorities Commission Kamal Farooqi said that the India's image has suffered in the international forum and the board was concerned about it. We against any attempt to make Yoga and Surya Namaskar (a Hindu ritual of Morning Sun Salutation) in schools as mandatory practice was ritualistic in nature and was against Islam, he added.
"The issues related with religious freedom were discussed in the meeting and the members were totally against any such practice which deprives one of his Constitutional rights. Not only Muslims, but Christians are also being targeted which is unfortunate. We will go to the court if needed to protect our Constitutional rights," he said.
The Board rejected calls for amendments to the Muslim personal law, saying such amendments struck at the roots of religion.
Any attempt to 'impose' agenda of RSS, a Hindu extremist organization and curtail religious freedom of Muslims will be challenged at all appropriate levels, members of Muslim Personal Law Board asserted. The Board vowing to carry out a campaign to clear 'misconception and propaganda against Muslim' spread by the RSS outfits, Bajrang Dal, VHP and other such organization. This is needed in context of today when these organizations are trying to force its agenda on us.
Around 180 million Muslims live in Hindu-majority country making up 14% of the India's population. Indian Muslims is largest religious minority in the world and 3rd rank after Indonesia and Pakistan by Muslim population..
Tags: #