Indian Muslims angry at Hijab banned during Pre-Medical Tests
2015-07-16 21:09:30 | Al Muslim News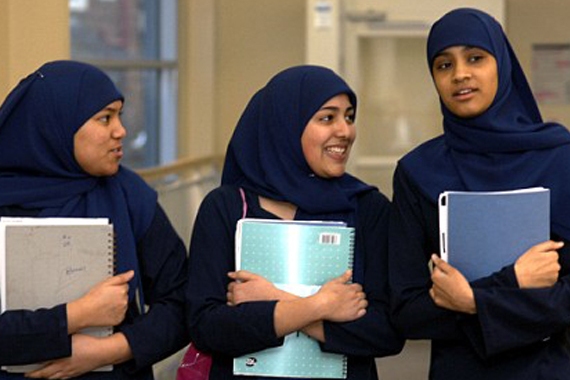 No student can wear hijab or scarf, even full sleeve kurta and shoes during July 25 test
A controversial dress code issued for pre-medical tests in India that bans the Islamic headscarf/hijab to avoid cheating. The dress code issued on July 9th has banned scarf/hijab, full-sleeve kurta. The dress code has angered Muslim parents whose daughters wear Hijab and are candidates of AIPMT. Scarf and full-sleeve kurta are the minimum part of Islamic Hijab.
The test guideline has been criticized as a threat to the future of Muslim student girls in the India.
The Central Board of Secondary Education (CBSE) has issued a controversial dress code for the 25th July AIPMT (All India Pre-Medical/Pre-Dental Entrance Test). The dress code issued on July 9th which includes a first-time dress code, has banned scarf/hijab, full-sleeve kurta among other things.
The candidates can't wear a scarf and they must not turn up in full sleeves either. The new code pointed out 'light clothes' preferable for the exams without more details. "Shoes aren't allowed, but slippers are fine," the instructions said.
For many of the dozens of Muslim girls appearing for the exam, it's been disquieting. Muslim women who routinely wear the full hijab or even a simple scarf round their heads say they feel awkward in public places without one.
"My father took special permission so I could wear my scarf to school. Why will I give it up now?" asks Fatema Akhtar who scored 92.6 per cent in her Class XII exams.The17-year-old top scorer from DPS Eldeco in Lucknow may have to choose between an opportunity to be a doctor and keeping her headscarf on.
Fatema said that she won't take the test if she was not allowed to wear her hijab and would settle for the Uttar Pradesh state medical exam. The board unusual step – which has nothing to do with religious clothing – aims to ensure students don't hide devices and notes in the crevices of unwieldy attire, the Indian officials said.
"Banning electronic gadgets like mobile, camera or calculator for exam can be understood and supported but banning scarf and full-sleeve kurta is highly objectionable because according to Islamic teachings, Muslim girls have to wear them. We demand the CBSE to withdraw this portion of dress code (that bans scarf and full-sleeve kurta) because it is against freedom and religious freedom," said Mohammad Salim Engineer, Secretary General of Jamaat-e-Islami India.
"We are not referring to a religious headscarf at all. The instructions refer to the other kinds of caps and scarves," said Satbir Bedi, the chairperson of the central board. The written guidelines issued to all the exam centers, the Indian media reported.
"This amounts to a violation of religious freedom and therefore fundamental rights. Scores of Muslim girls may opt out. We appeal the CBSE to reconsider," said Masoom Moradabadi, the general secretary of the All India Muslim Majlis-e-Mushawarat.
"My daughter will decide," said Adib Khan from Bhopal. She wore a full hijab and it would be culturally unacceptable for her to step out in different attire, he said.
Indian Muslims account for 180 million of India's 1.1 billion people, the world's third-largest Islamic population after those of Indonesia and Pakistan.
Islam sees hijab as an obligatory code of dress, not a religious symbol displaying one's affiliations.
Muslims have long complained of being discriminated against in all walks of life in Hindu-majority India.
. Tags: #
Indian-Muslims
#