Indian Muslim Student Denied Entry to Class for Hijab
2015-05-18 04:44:48 | Al-Muslim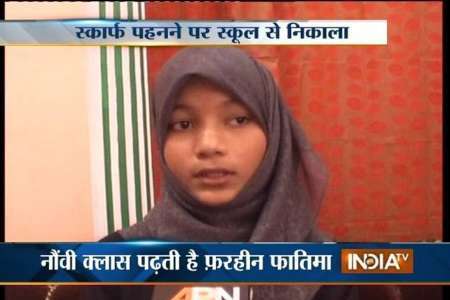 Indian Muslim Student Farheen Fatima, who denied entry to class
A private school in Lucknow in Indian state of Uttar Pradesh denied entry to a Muslim girl in the classroom for wearing headscarf (hijab), with the school's administration claiming the decision was taken not to discriminate between children on the basis of dress.
After withdrawing her admission in the school, Muslim student's parents have lodged a complaint about the 'unconstitutional' norm with the district administration.
The dilemma started when class 9th student Farheen Fatima could not sit inside her classroom in St. Joseph Inter College in Lucknow town as the school administration denied her entry while wearing headscarf.
Farheen also told that the school is being run by a Hindu family and not by Christian missionaries.
"We have other Muslim students as well. No girl comes wearing scarf. Students will have to adhere to rules and regulations," said Anil Agarwal, managing director of the school.
"Farheen and her parents were informed about dress code in the school at the time of admission", N. Emenuel, school principal said.
However, Farheen and her mother stated that they were not informed about dress code banning hijab during the admission process.
"She was wearing headscarf at the time of admission process. Her photograph with headscarf was affixed even on her admission form," said Waqar Fatima, mother of student.
Farheen informed that she was not allowed to sit inside the classroom, the very next day of her admission.
"We gave an application to the school administration asking them to allow Farheen to attend classes wearing her headscarf," her mother said. "They never replied to our letter. The school principal even refused to give anything in writing on dress code", she added.
District authorities have ordered a high-level probe into the charges against school. District Magistrate Raj Shekhar said that taking cognizance of the application submitted by girl's parents, a joint magisterial inquiry has been ordered.
Muslims account for 180 million of India's 1.1 billion people, the world's third-largest Islamic population after those of Indonesia and Pakistan and largest Muslim minority in the world.
Islam sees hijab as an obligatory code of dress, not a religious symbol displaying one's affiliations.
Indian Muslims continuously being discriminated against in educations, jobs, accommodations and practice of Islamic faith.
Anti Muslim riots routine in India by Hindu extremists and killed hundreds of thousands of Muslim. In 2012, during Gujrat riots more than 2000 Muslims killed.
. Tags: #
Islamophobia
#
Hijab
#
Indian-Muslims
#
India
#