Indian Minister: Beef eaters go to Pakistan
2015-05-22 10:06:18 | Al Muslim News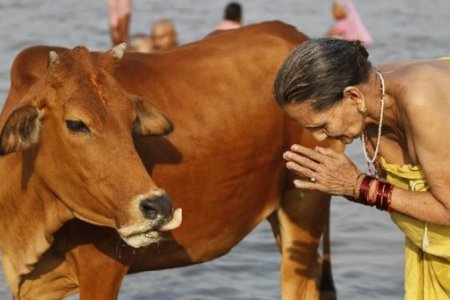 India Minister for Parliamentary Affairs Mukhtar Abbas Naqvi justified ban on cow slaughter and asked all those who want to eat beef to go to Pakistan.
"It is not about loss or profit… it is an issue of faith and belief. It is a sensitive issue for the Hindus," Naqvi said.
"Those who are dying without eating beef, can go to Pakistan or Arab countries or any other part of world where it is available," he said.
"Even Muslims are against it…" he contended.
Naqvi was countered by AIMIM president Asaduddin Owaisi who asked whether the central government would impose blanket ban on beef across India, especially in states like Goa, Jammu and Kashmir and Kerala where a large number of people eat this kind of meat.
Asaduddin Owaisi who immediately questioned the minister if he was indeed asking his Goa Chief Minister Laxmikant Parsekar to leave the country after he had assured Goa citizens that beef would not be banned come what may.
"As the CM, I have to take care of all people in the state including its 38 per cent minorities. Christians account for 30 per cent of the population while the remaining is from the Muslim community. It is not like they started consuming beef recently; this has always been part of their daily cuisine. How can I ban it?… as the CM of Goa, I can state that Goa will never ban beef," Goa's Chief Minister Parsekar had told to media.
Last month, Amit Shah president of BJP, India's ruling Party, was welcomed in Meghalaya with a beef party in protest against the party's supposed to move to enforce a complete ban on beef across the nation.
India is Hindu majority country, Hindu considered cow as sacred and very holy animal, regarded Cows as alternative name 'Guamata' means Cow Mother.
Non-Hindus consuming beef in daily needs due to cheap alternative of mutton. Hindus target to Muslims as beef eater and anti-Muslim riots erupt on the issue.
Muslims account for 180 million of India's 1.1 billion people, the world's third-largest Islamic population after those of Indonesia and Pakistan and largest Muslim minority in the world.
. Tags: #