Indian company denies job to Job-seeker with MBA degree for being a Muslim
2015-05-22 07:55:06 | Al Muslim News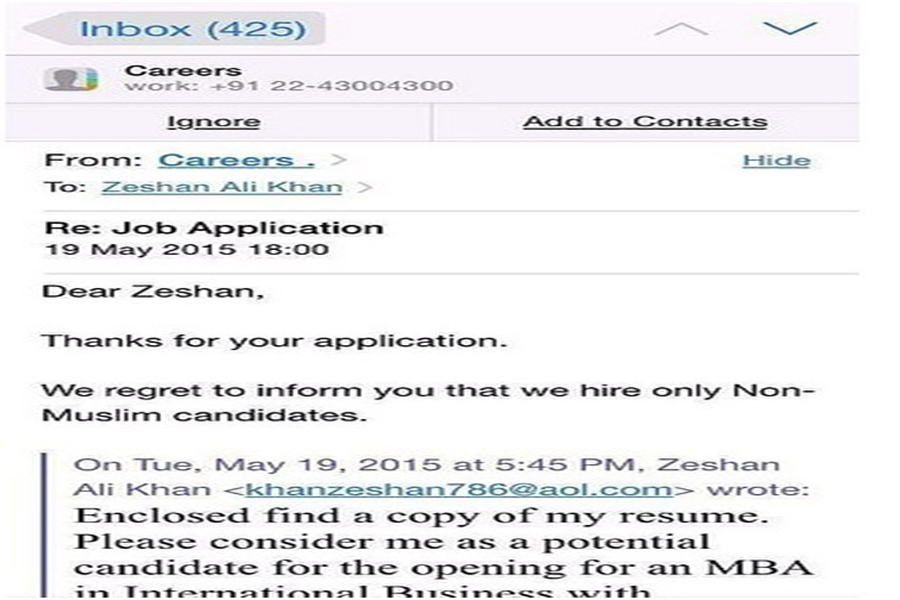 The screenshot of the email, posted on social media page
In a case of religious discrimination, a top diamond jewellery export firm declined to entertain the job application of a youth on the grounds that he was a Muslim.
About 15 minutes after applying for a job at a multinational export firm in Mumbai, MBA graduate Zeshan Ali Khan received a reply that left him in utter disbelief: "We regret to inform you that we hire only non-Muslim candidates."
After the rejection letter sparked a controversy, the firm said it was an error on the part of one of its staff and it never practised religious discrimination, Muslim mirror reported.
The job-seeker, Zeeshan Ali Khan, a business management graduate from Mumbai, had applied for a position in HariKrishna Exports Pvt LTD, a leading exporter of diamond jewellery, as candidate for marketing executive but was shocked when he received the response from the firm stating that it hires only 'non-Muslim candidates.'
"I just completed my final semester exams of MBA last week and like other classmates have been looking for a job.
I came across an update regarding a recruitment drive undertaken by leading diamond and jewelry exporter and thought it would be a great start for my career," Khan said in interview.
"I along with my two classmates applied for the job. I forwarded them my resume on 19th May, 2015 at 05:45 PM and exactly 15 minutes later I got a reply from the HR in charge of the firm that my application has been rejected because the company only hires non-Muslims," Khan said.
"At a time when Prime Minister Narendra Modi is visiting foreign countries and inviting them for investment and pushing ahead the 'Make in India' campaign, the leading export houses are rejecting candidates for their religion," he wrote on social media post.
After the screenshot circulated swiftly on social media, Khan received another email from the company expressing 'regret' for the erroneous reply to the job application, further stating that "The Human Resource trainee who denied job to Zeshan Khan has been suspended."
"It was a blunder and personal mess created by one of our trainees who has no decision making power. We have 61 employees in our office here including one Muslim in the HR team," Hari Krishna Exports Private Ltd said in the mail.
Mahendra S. Deshmukh, associate vice president and the head of human resource department of the firm also sought to pass on the blame to a trainee employee, Dipika Tike, who she claimed had sent the erroneous email. Since the controversy erupted, the company has terminated the services of the trainee woman employee, sources said.
When sought out for response, neither Deshmukh nor any other senior official of Hari Krishan Exports Pvt. Ltd. was available as they "were in a meeting".
Taking note of the incident, activist Shehzad Poonawalla wrote to the National Commission for Minorities urging it to look into the issue. In response, Naseem Ahmed, Chairman of the NMC said, "We have received the petition. If there is any truth in this, it is unfortunate. An inquiry shall be conducted," he said.
Khan's father Mohammed Ali said that his 22-year-old son had applied for the job but was rejected as he is a Muslim. "We have approached police to seek justice against this discrimination," he said.
Maharashtra Minority Affairs Minister Eknath Khadse, who took a serious view of the matter, assured suitable action would be taken against the errant company.
Rights activist Shehzad Poonawalla shot off a letter to the National Commission for Minorities and the union home ministry, seeking their intervention.
"This incident is a blatant violation of the spirit of the Constitution that mandates equality and absence of religious discrimination through Articles 14 and Article 25," Poonawalla said.
. Tags: #
Islamophobia
#
Muslim-minorities
#
Indian-Muslims
#
Discrimination
#
India
#