India's first halal cosmetic brand set to expand franchises
2015-05-14 09:09:15 |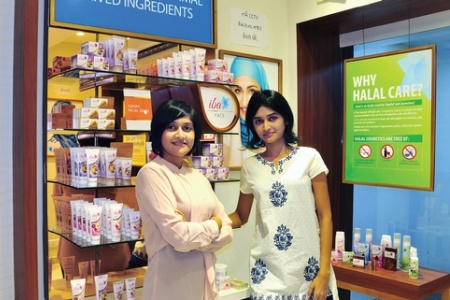 Mauli Teli and Grishma Teli at the Iba Halal Care outlet
Iba Halal Care, India's first halal cosmetics brand gain popularity among Muslim women as well as non Muslims in the country. Iba cosmetics are manufacturing by Ecotrail Personal Care, a company headed by two non Muslim women of Jain religion.
Teli is not a Muslim, but the smart, courteous, CEO of a company of cosmetics whose Iba product, India's first halal-certified cosmetic brand, is more than ready with her answers. Thanks to this, Iba's consumer base is growing steadily, and not just among the Muslim community, Muslim Mirror reported.
"Halal has a deep meaning. It means it's pure, safe, and healthy. What it means in terms of our cosmetics range is that our products are organic, free of animal fat and animal-derived products like keratin, collagen and gelatine, and alcohol free. They are free of any harsh chemicals and animal cruelty. Therefore they are good for everyone," Mauli told in a telephonic interview with IANS.
Mauli and her sister Grishma Teli started their company, Ecotrail in 2012, which was a manufacturing unit and research lab. In September 2014, after a thorough market research and talks with consumers, salon owners and others, the duo launched Iba Halal Care.
"I moved back to India in 2011 after studying and working in the US for seven-and-a-half years. I have a technical background and was into management consulting. My sister had studied biotechnology in the UK. Both of us have always wanted to start something on our own…that we come from a family of entrepreneurs helped a lot," Mauli said.
Personal care products, she said, were of interest to both the sisters. Their father is into equipment manufacturing for the cosmetics industry.
"Since I had worked with (market research agency) AC Nielson, I knew that the field of personal care was very competitive and in order to succeed we had to make a unique proposition. In the US, natural, ethical products are much sought after and we found that halal cosmetics was a niche field that could be explored," she said.
Considering that India has a large Muslim population, the sisters realised that there was a need for such products.
"Halal certified products are popular in Southeast Asia like Malaysia. Britain also has a few small brands. But, in the Indian context, we had to take care that ours was not a high-end brand, but something that the market could bear."
As they launched Iba with their first stand-alone store in Ahmedabad it triggered a lot of interest.
"People were curious. They would come and ask me all kinds of questions. Sometimes even Muslims did not understand what halal had to do with cosmetics. Once we told them about the fat free lipsticks and alcohol free perfumes, they understood," Mauli said.
The concept also appealed to people from the Jain community and those who opt for a vegan way of life. "Actually, 35 percent of our consumers are non-Muslims, and the interest is increasing," Mauli said.
Iba Halal care products – priced between Rs.40 and Rs.250 – are no less effective on the skin or hair, she says. They have the same look and feel like any other modern cosmetic product with no side effects, she adds.
From lipsticks, face sprays and face creams to shampoos, conditioners and perfumes, it's a wide range.
Iba products are available online shopping portals Amazon and Flipkart.
Mauli Teli told that the company plans to expand the network through franchisee stores in cities like Surat, Bharuch and Vadodara in Gujarat and Hyderabad, Bengaluru, Delhi, Mumbai, Jaipur, Lucknow and Kolkata.
. Tags: #
Halal
#
India
#