India pushes support for Palestinian Authority
2015-05-06 08:30:56 |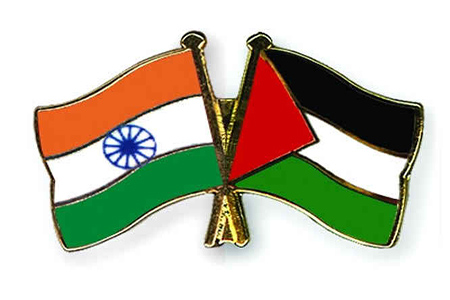 The flags of India and Palestine
The first round of Foreign Office Consultations between India and Palestine were held in Ramallah Monday in efforts to strengthen bilateral diplomatic relations among both nations.
India's support for the Palestinian cause was emphasized by Indian diplomats during the meeting, led by Ambassador Mazen Shamiya, representing Palestine and Ambassador Sandeep Kumar representing India, the Indian Representative office in Palestine said.
Delegations discussed regional and multilateral issues including the latest developments in the Middle East peace process, regional developments and the "fight against terrorism," as well as United Nations Security Council reforms, the office said in a press release, Ma'an News Agency reported.
Palestinian representatives underlined support to the efforts and aspirations of India to obtain a permanent seat in the UN Security Council, as both sides agreed to increase efforts in building a mutual relationship.
India has historically supported the Palestinian cause, despite the country's close military and commercial relations with Israel.
India has formally adhered to policies supporting "inalienable rights" of Palestinians since 1947, the year that India's gained independence from British colonial occupation.
India cemented diplomatic relations with Israel in 1992 and today is one of the top buyers of Israeli military equipment, conducts extensive trade with the country, and works with Israeli intelligence in efforts to combat separation movement of Kashmiri Muslims in Indian-occupied Kashmir.
While maintaining a "neutral" stance on continuing humanitarian crisis in Gaza crisis, India was one of many non-European countries to vote in favor of a UNHRC probe into alleged war crimes committed by Israeli forces during last summer's war in the Gaza strip.
. Tags: #
Middle-East
#
Arab-World
#
India
#
Palestine
#