India: Muslim Man Alleges Son Taken to Hindu Camp
2015-10-28 12:06:49 | Al Muslim News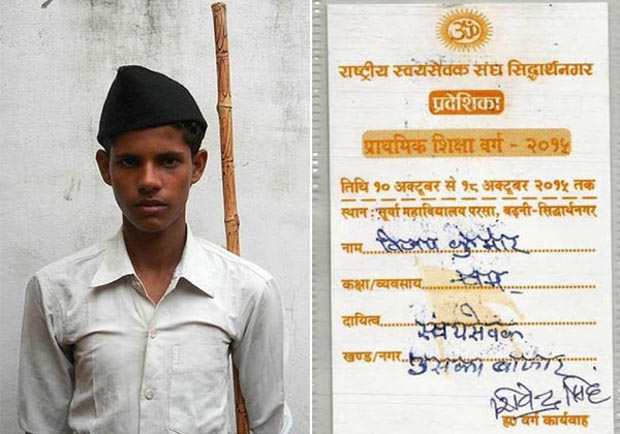 `I was told that my new Hindu name is Vijay Kumar,` 15-year-old school student Gulzar Ahmed says
The Minorities Commission in northern India's Uttar Pradesh state said Monday it was investigating allegations that a Muslim teen was fraudulently sent to a "radical Hindu training camp" on the pretext of an educational trip organized by the boy's school earlier this month.
Mahboob Ahmed, a resident of Siddharthnagar district, Utter Pardesh, filed a complaint with district authorities last week, alleging that his 15-year-old son, Gulzar Ahmed, was kept in a training camp organized by the Rashtriya Swayamsevak Sangh (RSS) from Oct. 10 to Oct. 17 and "forced to recite anti-Muslim slogans" Benar News reported.
The RSS, a rightwing Hindu organization that has openly voiced sentiment against India's Muslim and Christian minorities on several occasions, is the ideological mentor of Prime Minister Narendra Modi's Hindu nationalist Bharatiya Janata Party (BJP).
Gulzar is a Class VIII student at a local government junior high school in Uska Bazar town of Siddharth Nagar. He picked up from school for education tour and taken to a RSS camp held in local BJP MP Jagdambika Pal's school at Siddharth Nagar.
Ahmed, a daily wage laborer, said he deposited 450 rupees ($7) at Gulzar's government-run school for the trip, which, he was told, was an educational tour.
"Gulzar wanted to go on the trip because three of his classmates were going," Ahmed said
Ahmed said he has decided to withdraw Gulzar and his two other children from the school.
In his complaint to the SMC, Mahboob claimed the local RSS unit took Gulzar to a recent training camp under the fake name Vijay Kumar. He claimed his son had to attend sessions where "anti-Islamic poems and literature" were read out.
The allegations come amid a growing number of reports of Hindu extremist and RSS-affiliated rightwing outfits forcibly converting Muslims and Christians, often in India's remote areas that house the country's massive illiterate population.
"We have no doubt that the RSS is holding such training camps to forward its agenda of turning India into a Hindu nation," Shafi Azmi, spokesperson for the U.P. state Minorities Commission, told BenarNews.
"It is clear they are targeting Muslims, but we won't let that happen," Azmi said, adding that an inquiry into the allegations levied by Gulzar's parents was underway.
"If found guilty, we will take the strictest action against Gulzar's school principal and the three teachers who accompanied him to the RSS camp," said Azmi.
. Tags: #
Anti-Islam
#
Hindutva
#
Hindu-extremism
#
Indian-Muslims
#