India: Extremists kill Muslim over beef eating rumour
2015-10-01 05:51:49 | Al Muslim News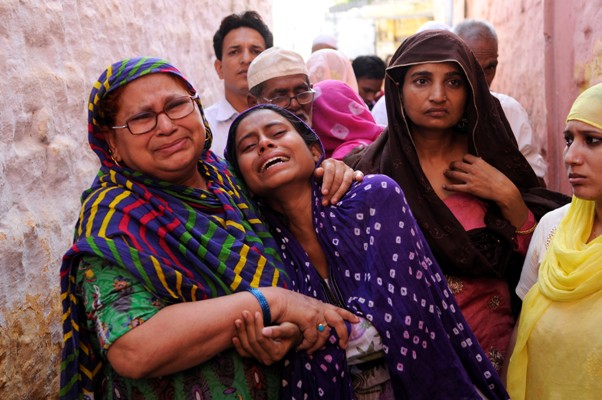 Victim dragged out of his home and beaten to death by a mob over rumours that his family slaughtered a cow and eaten beef.
A Muslim man has been dragged out of his house and beaten to death, while his 22-year-old son was severely injured in Indian state Uttar Pradesh after it was rumored that the family had been family slaughtered a cow and eaten beef.
Mohammed Akhlaq, 52, and his family was attacked, after a local temple allegedly announced the family had been eating beef.
A strong mob of 100 persons attacked the residence of Mohammad Akhlaq in Bisada village near Dadri, Uttar Pradesh after an announcement was allegedly made from a temple that a cow has been slaughtered and consuming beef at his house. The mob allegedly beat 50-year-old Akhlaq to death while his son Danish was critically injured in the attack.
Farm worker Akhlaq succumed to his injuries, while his son Danish was admitted to a hospital in what doctors called "critical" condition.
The attack on Akhlaq, a Muslim, comes as tensions increase between Hindus and religious minorities in the Uttar Pradesh state, where the incident occurred.
Killing cows is banned in many states of India, a majority-Hindu country that also has sizeable Muslim, Christian and Buddhist minorities. Many Hindus regard the cow as the living symbol of their religion.
Akhlaq's 18-year-old daughter Sajida said the family kept "mutton in the fridge", not beef.
She said a group of over 100 villagers arrived at the family's home. "They accused us of keeping cow meat, broke down our doors and started beating my father and brother."
"My father was dragged outside the house and beaten with bricks. We came to know later that an announcement had been made from the temple about us eating beef," she said.
Samples of the meat were sent "to the forensics department for examination", police said.
Violent protests erupted after six people suspected of involvement in the incident were arrested near Delhi.
Gautam Budh Nagar District Magistrate N P Singh said police had been deployed in the village.
"Some locals spread rumours that Akhlaq had cow meat at his home and engaged in cow-slaughtering," he said, adding "Following the rumours, tension ignited and some locals attacked his home in Bisara village", he said.
Senior police officials contested Narendra's version. Police officer Kiran S said "We are yet to ascertain the type of bullet and the weapon from which it was fired."
Police officer Kiran S said that the police were investigating which organisations were involved and how the incident happened.
About 20-25 Muslim families, who are landless and mostly daily wage-earners, live in the village that witnessed the violence.
But the Muslim community in the village is living in fear, as they had not seen this kind of violence in their lifetime.
Muslim groups also came down heavily on the BJP government as well as Utter Pradesh's Akhlesh Singh Yadav government for rising atrocities on the minority comminutes.
All India Milli Council said since the BJP came to power, the country has been pushed into communal cauldron. Council secretary general Dr Manzoor Alam said the brutal lynching of Mohammad Akhlaq in Dadri on the pretext of cow slaughtering and killing a Muslim youth in Maharajganj (Kanpur) by dubbing him a terrorist are the most reprehensible and despicable act.
Not all BJP-led states are pushing for tighter restrictions on beef. The chief minister of Goa, another BJP-led state, has refused to back the ban, saying that two-fifths of people there eat beef and he respected the rights of minorities.
. Tags: #
Indian-Muslims
#