Iceland backs down on full-scale Israel boycott
2015-09-21 08:52:41 | Al Muslim News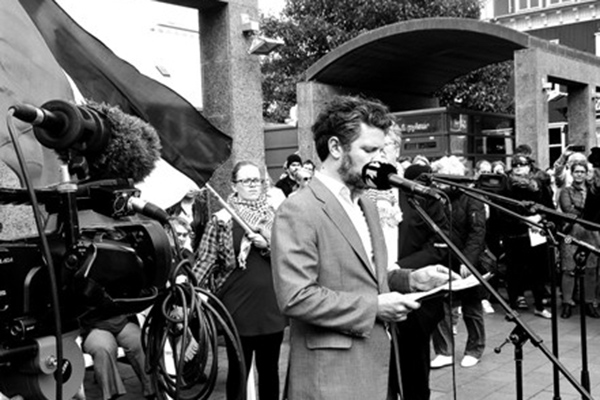 Mayor of Icelandic Capital Reykjavik, Dagur B. Eggertsson speaks at a demonstration against the Israeli war crimes in Gaza in July 2014.
Mayor of Reykjavík, Iceland's capital, Dagur B. Eggertsson announced on Sunday the proposal boycotting Israeli products will be rescinded and revised, , explaining that the city will now only boycott goods produced in occupied Palestinian territories, according to local website Iceland Monitor.
Few days ago, Iceland officials announced Wednesday, Sep. 16 the country is boycotting goods manufactured in Israel as long as Israel's occupation of Palestinian territory, Al Bawaba news reported.
Reykjavík's City Council said the general boycott of Israeli goods is a symbolic move to show Iceland supports the Palestinians' right to independence and condemns "the Israeli policy of apartheid" in the occupied Palestinian territories.
The proposal will be amended to indicate that the Council will be boycotting only those goods produced "in occupied Palestinian territories," the website reported, citing the mayor.
Israel's Foreign Ministry condemned the move, and, in an apparent reference to Iceland's status as a hotbed of volcanic activity, said "a volcano of hatred spews forth from the Reykjavik city council building.
Israel announced plans in July to build homes in the West Bank, inciting violent protests in the disputed territory. Most countries consider the settlements illegal, and the U.S. State Department has expressed concern "settlement expansion threatens the two-state solution."
On Thursday Iceland's Foreign Ministry distanced itself from the decision, saying the move was "not in line" with the country's foreign policy.
. Tags: #
Israel
#
Palestine
#