Hindu population declined, Muslims increased in India: 2011 census
2015-08-27 02:24:04 | Al Muslim News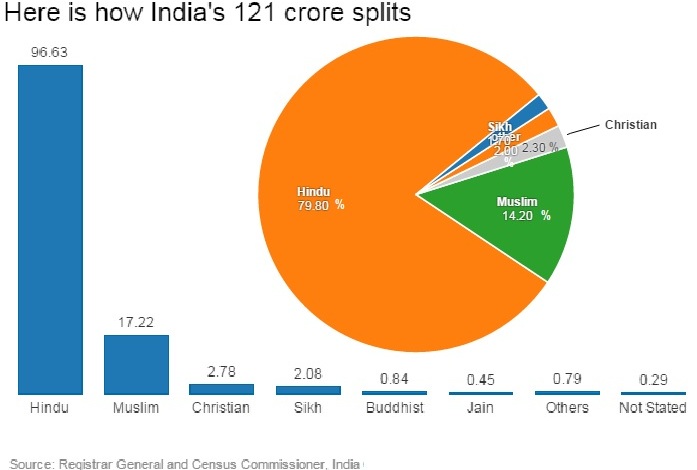 Muslim population increases marginally, but latest census data shows fertility rates across groups have stabilised.
2011 Census data revealed Hindus constitute 79.8 % and Muslims, India's largest minority group, now make up 14.2 % of the country, increased by 0.8% while 13.4 percent in 2001.
India's Hindus have dropped below 80 percent of the population for the first time since independence, with the proportion of Hindus to total population slipping by 0.7% in recent census.
In the first census, conducted after Britain carved India and Pakistan out of colonial India in 1947, Hindus accounted for 84.1% of the Indian population.
The overall growth rate of population was 17.7%.
According the latest census 2011, that the Muslim share in population had increased, their growth since 2001 has recorded a sharp decline.
While the growth rate of population from 2001 to 2011 was the highest among the Muslims at 24.6%, for Hindus it was 16.8%, Christians 15.5%, Sikhs 8.4%, Buddhists 6.1% and Jains 5.4%, the data released by the Registrar General and Census Commissioner revealed here on Tuesday.
Of the total population of 1.21 billion in 2011, Hindus were 0.96 billion (79.8%); Muslims 172.2 million (14.2%); Christians 27.8 million (2.3%); Sikhs 20.8 million (1.7%); Buddhists 8.4 million (0.7%); Jains 4.5 million (0.4%), other religions and persuasions (ORP) 7.9 million (0.7%).
The data also showed that 2.9 million (0.2%) of the population had not stated its religion.
According to a home ministry release, there has been no significant change in the proportion of Christians and Jains.
"The proportion of Hindu population to total population in 2011 has declined by 0.7 percentage point (PP), the proportion of Sikh population has declined by 0.2 PP and the Buddhist population has declined by 0.1 PP during the decade 2001-2011," the release said.
The distribution is total population by 6 major religious groups namely, Hindu, Muslim, Christian, Sikh, Buddhist, Jain besides 'Other Religions and Persuasions' and 'Religion not stated'.
. Tags: #
Indian-Muslims
#
India
#