Halal industry boosts in Russia
2015-05-23 11:18:00 | Al Muslim News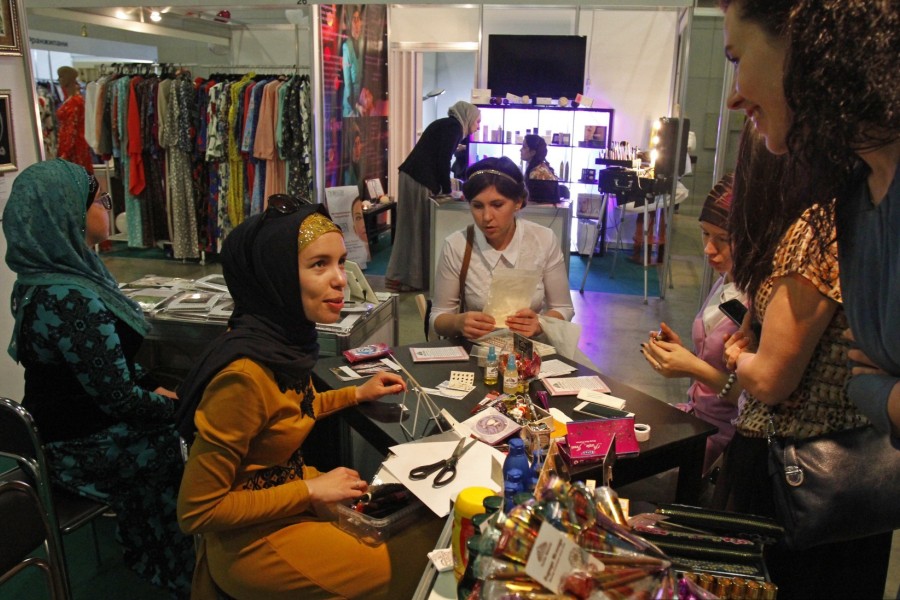 A women fashion accessories stall in 6th Moscow Halal Expo 2015
The market for halal products and services in Russia has been increasing year by year, Russia Muftis Council (RMC), vice-chairman has said.
The sixth Moscow International Halal Expo 2015, which started on Thursday at Crocus-Expo Center in Moscow. Over 200 halal companies from Russia and other countries are presenting their products,
Rushan Abbasov, who is on the organizing committee Halal Expo, said interest the halal sector in Russia has been increasing and many food companies had earned halal certificates.
"Despite the economic crisis in Russia, the interest of fair has not decreased this year," he said.
The Russian market for halal products – meat slaughtered according to Islamic law – is increasing to the "growth of religious consciousness" among Russian Muslims, according to the exhibition organizers.
The fair, is packed with displays from companies involved in Islamic finance, clothing, fashion, culture, pharmacy and tourism, as well as halal food products and services.
Abbasov, also thanked to event's global communications partner Turkish news network, Anadolu Agency for its support of the fair.
Firms have travelled from as far afield as Turkey, Iran, Britain, Pakistan, Saudi Arabia, Indonesia and Malaysia to attend the three-day expo.
The program includes a day of Islamic culture, giving visitors the chance to see new trends in Muslim fashion and cuisine, as well as examine Islamic art and listen to traditional music.
Islam is Russia's second-largest religion representing roughly 12% of its 143 million predominantly Christian populations.
. Tags: #
Halal
#
Russia
#