Ghani, Nawaz meet on sidelines of Shanghai Cooperation Organisation summit
2015-07-11 02:31:57 | Al Muslim News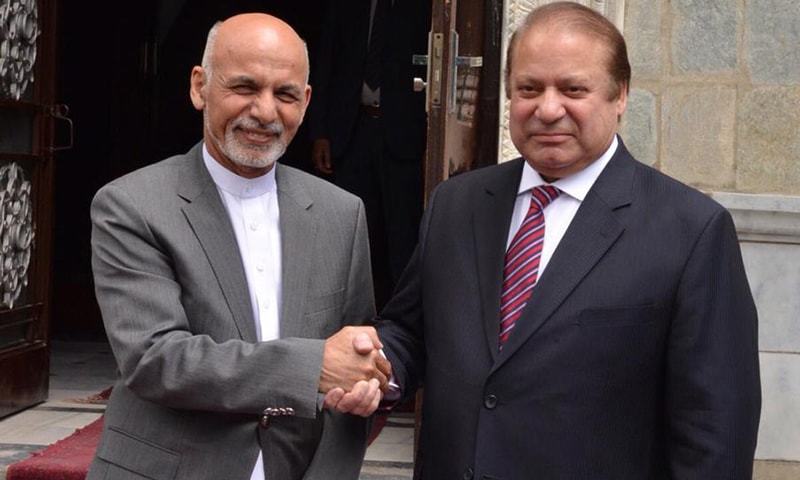 Afghan President Ghani and Pakistani Prime Minster Nawaz discuss Pak-Afghan ties
Pakistan's Prime Minister Muhammad Nawaz Sharif and Afghan President Ashraf Ghani in their meeting on the sidelines of the Shanghai Cooperation Organisation (SCO) Summit in the Russian city commented on the "upward trajectory" of Pak-Afghan relations, Pakistani media reports on Friday.
Regarding the meeting between the government in Kabul and Afghan Taliban held in Murree on July 7, the two leaders expressed satisfaction to promote peace and reconciliation process.
The meeting, which took place on the sidelines of the SCO summit in Russia comes just days after Pakistan brokered talks between the Afghan government and the Afghan Taliban in Islamabad.
"We must ensure regional stability and further economic integration to realize our goals. We must work together to mitigate differences, resolve outstanding disputes and create a favourable environment for the betterment of our peoples," Nawaz expressed these views while speaking at the Shanghai Cooperation Organisation (SCO) summit in Ufa, a Russian city.
Ghani and Nawaz exchanged views on how to carry forward the peace process. They also exchanged views on the efforts being made by the respective sides to counter terrorism and extremism.
Ghani appreciated Pakistan's efforts and its role in facilitating peace and reconciliation in Afghanistan, expressing hope that these efforts would lead to lasting peace and stability in the country.
The Pakistani Prime Minister spoke of the need for both countries to persevere to overcome challenges and build a cooperative relationship on "strong foundations".
He reaffirmed Pakistan's desire to build a positive and forward-looking relationship with Afghanistan.
PM Nawaz also extended an invitation to President Ashraf Ghani to jointly inaugurate the ministerial conference of the Heart of Asia process to be hosted by Pakistan in December 2015.
In efforts to foster a closer relationship, Afghanistan and Pakistan recently signed a landmark intelligence-sharing agreement.
The relationship between the two seemed tense as Afghan intelligence accused a Pakistani Inter-Services Intelligence official of being involved in the brazen Taliban attack on the Afghan parliament.
Nawaz Sharif in an earlier visit to Afghanistan this year pledged support in the fight against the Taliban saying that "we agreed peace and stability in the region will remain elusive until the menace of terrorism afflicting the region is comprehensively addressed."
Adviser to the PM on National Security and Foreign Affairs Sartaj Aziz, Special Assistant to PM on Foreign Affairs Tariq Fatemi and Foreign Secretary Aizaz Chaudhry were present in the meeting.Afghanistan's Foreign Minister Salahuddin Rabbani and National Security Adviser Hanif Atmar were also present during the meeting.
. Tags: #
Afghanistan
#
Pakistan
#