German mark international Al-Quds Day
2015-07-11 19:46:04 | Al Muslim News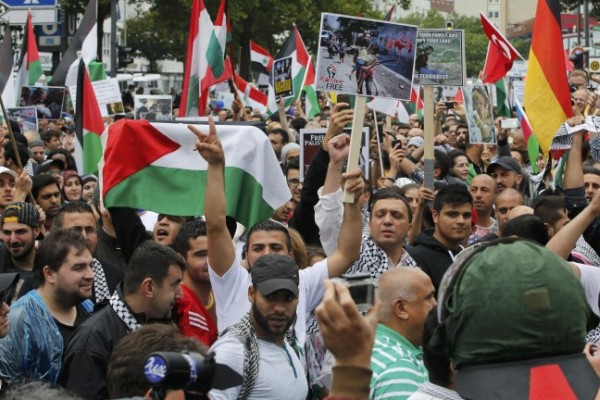 Al-Quds Day observed every year on the last Friday of the Muslim holy month of Ramadan
Hundreds of people have taken to the streets in the German capital Berlin to commemorate the International Quds Day and show solidarity with the oppressed Palestinian Muslims.
Every year on the last Friday of the Muslim holy month of Ramadan, worldwide rallies are held to commemorate the Palestinian people's resistance against Israel and their struggles to liberate their territories which have been occupied by Israel for decades. Millions of pro-Palestinian demonstrators, including Muslims and non-Muslims, take to the streets to denounce Israel's atrocities against the people of Palestine.
The demonstrators marched in central Berlin on Saturday, waving Palestinian and shouting anti-Israeli slogans, Press TV reported.
Ayatollah Ruhollah Khomeini, the late founder of the Islamic Republic of Iran, named the last Friday of the fasting month of Ramadan as the International Quds Day in 1979.
However, many in Europe have to observe the day on the weekend rather than Friday, a holiday in Islamic countries.
The protesters held placards reading "Freedom for Palestine" and denounced the Israeli regime's horrific crimes against the humanity.
The International Quds Day is observed annually in various countries around the globe. Millions of people stage rallies to show worldwide support for the oppressed Palestinian nation against the Western-backed the Zionist (Israeli) regime.
Israel maintains a defiant stance on the issue of illegal settlements construction on Palestinian land and refuses to freeze their expansion. Over half a million Israelis live in over 120 illegal settlements built since the 1967 Israeli occupation of the Palestinian territories of the West Bank and East al-Quds (Jerusalem).
Israel also denies about 1.8 million people in the Gaza Strip their basic rights, including freedom of movement, jobs with proper wages, and adequate healthcare and education.
. Tags: #
Germany
#
Palestine
#