Finance minister and PM's son to be appear before joint investigation team today.
2017-07-02 19:59:07 | MUHAMMAD IRFAN ALI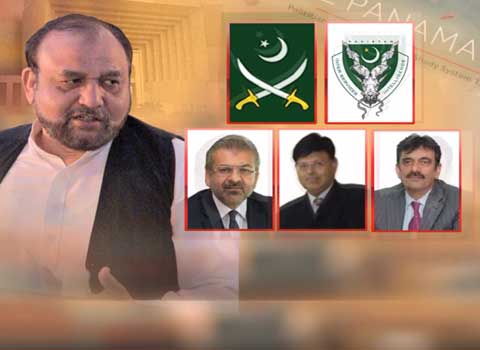 ISLAMABAD: The joint investigation team (JIT) probing the Sharif family's business dealings abroad has summoned finance minister Ishaq Dar to appear before it for questioning for the first time.
However, the finance minister was also summoned twice earlier but he did not appear due to his official engagements.
In the summons, the JIT has asked Dar to appear before it with all relevant documents at 3:00 pm on July 3 (today). While Ishaq Dar on Sunday held a meeting to prepare himself for questioning before appearing.
The Prime Minister's son Hassan Nawaz would also appear today before the Supreme Court-appointed JIT for further questioning. While, PM's daughter Maryam Nawaz would appear before JIT on Wednesday, July 5.
Hussain, the premier's elder son, has appeared before the JIT for questioning five times; whereas Hassan has been questioned two times.
The prime minister's cousin, Tariq Shafi, was also appeared before the JIT on July 2, where he answered in details to all the questions, according to him.
Chief Minister Punjab Shahbaz Sharif has also appeared before the JIT.
A number of people have so far appeared before the JIT for questioning including prime minister's son-in-law, retired Captain Safdar, former interior minister Rehman Malik and other witnesses.
The six-member JIT is due to present its report before the apex court on July 10.
In its judgement of April 20 in the Panama Papers case, the Supreme Court had constituted a JIT and empowered it to summon the prime minister, his sons and any other person necessary, to investigate allegations of money-laundering, through which the four apartments in London's Park Lane area were purchased.
. Tags: #