Filipino workers in Saudia revert to Islam
2015-06-27 02:59:25 | Al Muslim News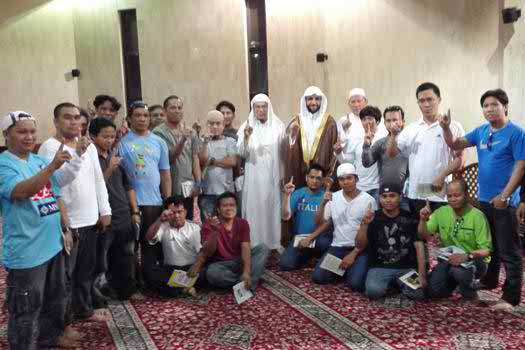 The expats, most of them from the Philippines, all work at King Abdulaziz University Hospital in Riyadh.
As Ramadan spirituality fills the air, twenty expatriate workers from the Philippines have reverted to Islam in a Riyadh mosque earlier this week after worshippers concluded taraweeh prayer.
"This is a time to rejoice for all worshipers who are with us tonight," The imam of the grand mosque in Dubhat district, Malaz, Sheikh Turky Qelaiwy said after concluding prayer, OnIslam reported.
"I am proud of you and everyone is happy to welcome you as new brothers in Islam."
The expats, most of them from the Philippines, all work at King Abdulaziz University Hospital in Riyadh.
Last Tuesday, they announced the Shahada (declaration of faith) to embrace Islam at the mosque, according to Gaddy Albani, a Filipino preacher who accompanied them.
Members of the congregation embraced them, while others took pictures and videotaped the proceedings.
Imam Qelaiwy assured the new Muslim reverts that Islam was easy and does not oblige them to do something behind their capabilities.
"You may find it difficult to carry out some of Islam's commands, but Islam is so easy and does not oblige you to do something you cannot do, for health or other reasons," he said.
"If you cannot fast this year because of these reasons you can do so next year," he said.
"But as new Muslims you will now have to adopt Islamic ways."
Qelaiway told Arab News that the people who know Islam are aware that it is "the right and plain religion and will adopt its practices."
He added that the number of new Muslim reverts showed that Islam remained the first choice of most people seeking a new faith.
"Christianity is a religion of Almighty Allah. We all believe this but Islam came to replace it. As such, it is the last belief accepted by the Almighty Creator," he said.
One revert said he embraced Islam after reading about the religion.
"I found out that it is indeed the last religion that people should follow," he said.
Last April, 600 Chinese workers have reverted to Islam, after being introduced to the tenets of Islam by Islamic scholars in the Muslims' most holy city of Makkah.
The news followed earlier reports last January when 500 Chinese Muslims reverted to Islam after being touched by the "simplicity" of the funeral of the late King Abdullah bin Abdul Aziz.
. Tags: #