FIFA to Vote on Israel`s suspension over discrimination against Palestinian
2015-05-21 04:31:26 | Al Muslim News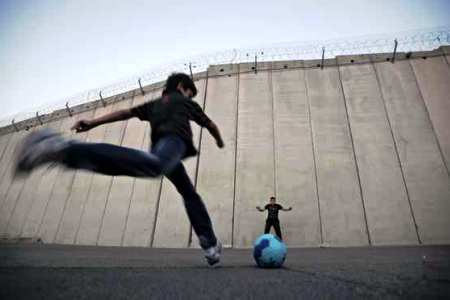 Palestinian kids playing football in front of Israeli wall, which beleaguered the Palestinian in West Bank.
After years of Israeli discrimination against Palestinian footballers in the occupied territories, the world football's governing body FIFA announced an investigation before a looming vote on suspending Israel, threatening the harshest sanctions ever applied against a world country.
The Palestinian Football Association said on Tuesday it was determined to push ahead with the vote on 29 May at the FIFA congress in Zurich, which could see Israel follow South Africa's apartheid-era regime in 1960s and Yugoslavia in 1980s – the only countries to have been suspended by FIFA.
The issues were on the agenda in both 2013 and 2014, but compromises meant it never went to a vote.
Jibril Rajoub, the head of the Palestinian Football Association, said we believed the issue would go to a vote and that he expected Israel to be suspended.
FIFA president Sepp Blatter discussed the issues with Israel prime minister Netanyahu on Tuesday, before meeting Palestinian president Mahmoud Abbas and Head of PFA on Wednesday. Rajoub said the PFA will keep its proposals on the Fifa congress agenda.
Speaking after his meeting with Israeli PM, Netanyahu, Blatter said the Israeli prime minister had agreed to the proposal of a "peace match" between Israelis and Palestinian national teams in Zurich organized by FIFA but would not go into details of what else was discussed.
The draft Palestinian resolution lists 6 main arguments for Israel's suspension, which include:
• "Humiliating treatment at the border by the relevant Israeli authorities to both Palestinian players/officials and foreign delegations including Fifa."
• "Violent acts by Israeli security forces during football matches (for example stoppage of matches, training sessions, arrests) and/or closure of clubs without explanation in areas under the authority of the Palestinian National Authority."
Despite the creation of a liaison mechanism set up at the instigation of Blatter and regional football associations over the last two years, Rajoub said there had been no improvement for Palestinian footballers.
Suspension from FIFA is the most serious sanction the organization can impose short of expulsion, and would see Israel's Football teams banned from playing internationally.
. Tags: #