Female pop singer converts to Islam
2015-08-29 08:31:32 | Al Muslim News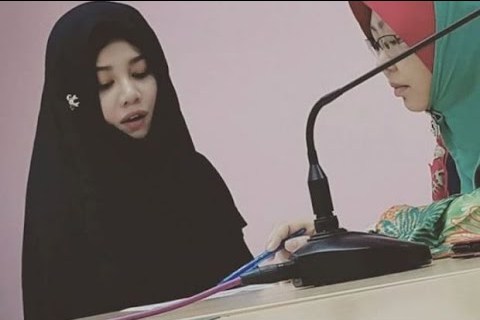 Stracie Angie Anam during taking Shahadah (Islamic declaration of faith) while donning hijab in a video
A Malaysian pop star officially announced her reversion to Islam during a press conference held at Astro on Tuesday, confirming rumors about embracing Islam after being spotted wearing hijab, according to media reports.
"Yes, I have converted to Islam officially on Monday. It was the happiest day of my life," pop singer Stracie Angie Anam or Stacy AF was quotes by News Straits Times Online.
Rumors about singer Akademi Fantasia Season 6 champion's reversion to Islam were circulated on social media after she had appeared in a video taking the Islamic declaration of faith while donning hijab.
Officially embracing Islam at the Johor Baru religious office in Johor, Malaysia, the pop star took a Muslim name, Ummu Syaikhah Stacy binti Anam.
The 25-year-old star, who has four albums, hopes that fans wouldn't question her reversion to Islam.
"I was a Christian before and I am proud of it. But this is a matter of the heart, and I have fallen in love with Islam and I am ready to embrace it with all my heart," she said.
Previous month, Tottenham striker Emmanuel Adebayor revealed his reversion to Islam after taking Shahada, or declaration of faith, in a social media video.
. Tags: #
Convert-to-Islam
#
Malaysia
#