England: Sheikha Moza of Qatar opens Oxford University`s Middle East Centre
2015-06-01 09:03:10 | Al Muslim News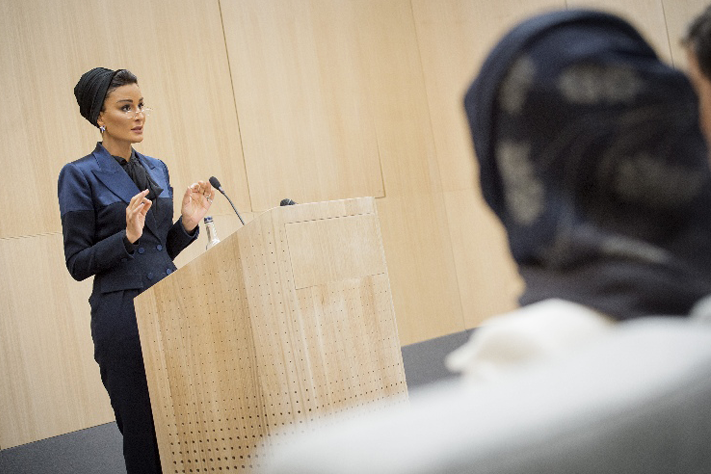 Sheikha Moza Speaks at opening of Oxford University`s Middle East Centre
Sheikha Moza bint Nasser, chairperson of Qatar Foundation for Education, Science and Community Development (QF), delivered a keynote speech, at the opening of the Middle East Centre, at St Antony's College, Oxford, touching on the current relationship between the Middle East and Europe.
She spoke about the growing "fear of real, living Muslims" in Europe and contrasted this with Europe's curiosity and "respect for the vast and rich architectural, philosophical and historical traditions" of Islam, QNA reported.
She added that, "Islamophobia" had devalued the lives of Muslims in Europe and America and highlighted a double standard in applying principles of free speech, human rights and dignity.
"Why do Muslim lives matter less than the lives of others? If they matter at all," she asked.
In addition, she raised the issue of the use of language in analysing the rise of militancy.
"The word 'medieval' is appearing more and more to describe the actions of radicals. But why do we insinuate that, somehow, those who are perpetuating certain acts of violence do not belong to our age? That, somehow, they are not 'modern?' It is a naive refusal to accept our collective responsibility. IS is as modern as Guantanamo and Abu Ghraib. They are all products of our age."
Her diagnosis was not only directed toward the growth of Islamophobia in Europe, but also toward Muslim countries themselves, who practice a type of "Islamophobia from within" by creating fear and suspicion of all things "Islamic" in order "to solidify the existing grip on power."
She connected this "Islamophobia from within" to the vestiges of colonisation and the suppression of the Arab spring. "It is evident that colonisation leaves behind deep material, political, cultural and psychological scars, and gaping wounds. Debate is needed. Violent repression is not. Could this be a reason why we, as Muslims, have lost confidence in our ability to apply the universal and eternal Islamic values to our living traditions?"
She added that, Muslims have the responsibility to demonstrate that "Islam is a rich, living moral tradition, that can offer solutions to universal challenges."
She gave the example of the work being conducted at the Qatar Faculty of Islamic Studies, in the application of Islamic values and ethics to global problems. She advised young Muslims that, "we should not only look back to history for the glory that was Islam, but to the future and to the glory that is Islam. We should be inspired not only by historical values, but by eternal ones."
Upon her arrival at the new building, she toured the centre, accompanied by architect, Zaha Hadid, to have a first-hand look at study rooms and facilities.
Qatar Foundation, via the Qatar Faculty of Islamic Studies at Education City in Doha, and Oxford University, have a long history of collaboration and partnership that stretches back almost a decade.
This collaboration has seen the annual exchange of professors and joint research and workshops. It also allows Qatari students, studying for their Masters in Middle Eastern Studies, to spend up to a semester at Oxford University.
. Tags: #
Middle-East
#
UK
#