Egyptian court sentences Ex-President Mursi to death
2015-05-18 03:25:20 |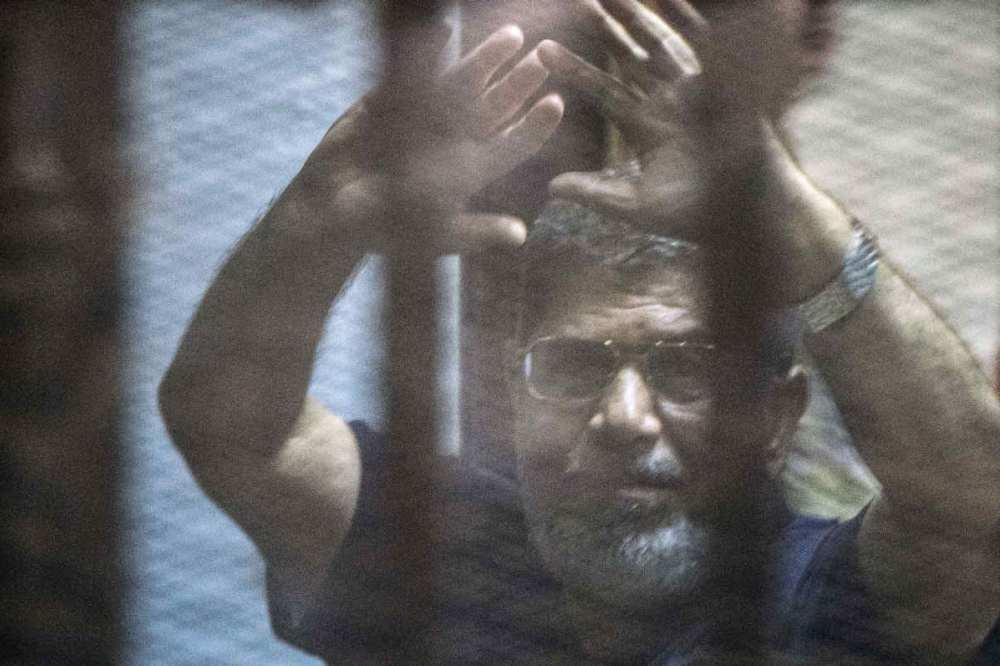 Egypt`s ousted President Muhammad Mursi in caged dock during hearing in court
An Egyptian court has sentenced ousted President Muhammad Mursi and more than 106 other defendants to death in connection with jail breaks during the 2011 uprising, news agencies reported.
The defendants were accused of planning jailbreaks and attacks on police during the uprising against longtime President cum Dictator Hosni Mubarak in revolt 2011.
Among the others sentenced to death were Mohamed Badei, the leader of the Muslim Brotherhood who had already been handed the death penalty in another trial, and his deputy Khairat Al-Shater. Mursi and dozens of other leaders were then detained amid a crackdown that left hundreds of his supporters dead.
Many of those sentenced on Saturday were tried in absentia, including renowned Islamic scholar Sheikh Yusuf Al-Qaradawi, who is Senior Islamic Scholar, and chairman of the International Union of Muslim Scholars. Qaradawi has written more than 120 books and currently living in Qatar. Sheikh Qaradawi recently criticize the Egypt's military government and puppet courts on political judgments and unjust decisions.
Mursi, sitting in a caged dock in the blue uniform of convicts having already been sentenced to 20 years for inciting violence, raised his fists in defiance when the judge read out his verdict. Mursi had ruled for only a year before mass protests prompted the military to overthrow him in July 2013. The court will pronounce its final decision on June 2.
Turkish President Tayyip Erdogan criticized Egypt over the decision and accused the West of hypocrisy, according to the state-run Anatolian news agency. "While the West is abolishing the death penalty, they are just watching the continuation of death sentences in Egypt.
They don't do anything about it," Erdogan was quoted as saying. Human rights group Amnesty International said the trial was a "charade" and based on "void procedures". "Condemning Mohamed Mursi to death after more grossly unfair trials shows a complete disregard for human rights...he was held for months incommunicado without judicial oversight and that he didn't have a lawyer to represent him," the organization said in a statement.
Mursi, who was overthrown by the army in 2013 amid protests against his government, was spared the death sentence in the first of two trials that concluded on Thursday, in which the court advised death sentences for 16 defendants on espionage charges. They had been charged with colluding with foreign powers, the Palestinian group Hamas and Iran to destabilize Egypt.
Egyptian authorities have banned Mursi's Muslim Brotherhood since his overthrow and arrested thousands of his supporters. Last month, an Egypt court sentenced Mursi and 12 other defendants to 20 years in prison for ordering the arrest and torture of protesters in clashes outside the presidential palace in December 2012.
Although a total of 11 people – including eight of his own supporters – were killed in the violence on that day and his guards did not discharge their weapons even while protestors were attacking the presidential palace, the trial only addresses the death of two anti-Morsi demonstrator during violence.
. Tags: #
Arab-World
#