Egypt`s Al-Azhar condemns China for banning Muslims from Ramadan Fasting
2015-06-21 04:36:52 | Chinese Muslims attend a praye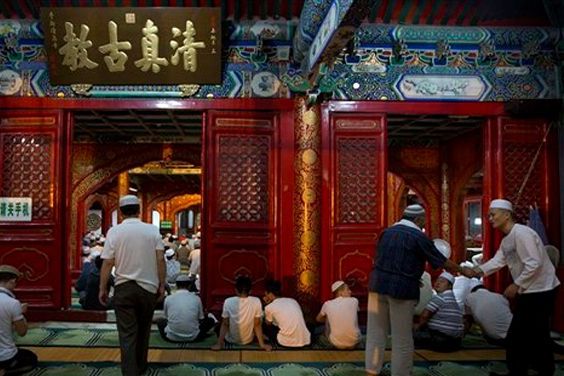 Chinese Muslims attend a prayer session to mark the start of Ramadan at mosque
Egypt's renowned top Muslim body, Al Azhar University has condemned China for preventing Muslims in the Xinjiang region, also known as East Turkestan, from fasting and practicing the very basics of their religion during the holy month of Ramadan.
Students, teachers and government employees from the Uyghur Muslims will be prevented by the Chinese authorities from fasting this year, conforming to a new law which was introduced last year.
Sheikh of Al-Azhar Dr Ahmed Al-Tayeb renewed his rejection of all forms of oppression practiced against Uyghur Muslims (who are native to Xinjiang) in China, and denial of their religious rights and individual freedoms.
Al-Azhar called on the Chinese authorities to halt all violations against Muslims. It also called on the international community and the United Nations and international bodies, as well as the human rights organizations to immediately intervene to stop these violations that contravene all international norms and conventions, which ensure that every individual has the right to exercise acts of worship and religious rites.
Hundreds of people have been killed in unrest in Xinjiang in the past two years, where China's repressive policies - including controls on religion and Uyghur culture - have intensified.
"China is increasing its bans and monitoring as Ramadan approaches. The faith of the Uyghurs has been highly politicised, and the increase in controls could cause sharp resistance," the World Uyghur Congress spokesperson Dilxat Raxit said in a statement.
The Communist party has also recently ordered Uyghurs to stock and sell alcohol and cigarettes in attractive displays, despite the fact that Muslims consider it a sin to sell alcohol for religious reasons.
Uyghur Muslims are subjected to discrimination in many respects, including being prevented from practising their faith openly, the banning of beards and headscarves and being prevented from teach their children the Quran. Officials and people younger than 18 are banned from participating in religious activities.
. Tags: #
Anti-Islam
#
Uyghr-Muslim
#
Discrimination
#
China
#