Dutch anti-Islam Politician to broadcast Prophet Mohammed (PBUH) Drawings
2015-06-20 04:05:32 | Al Muslim News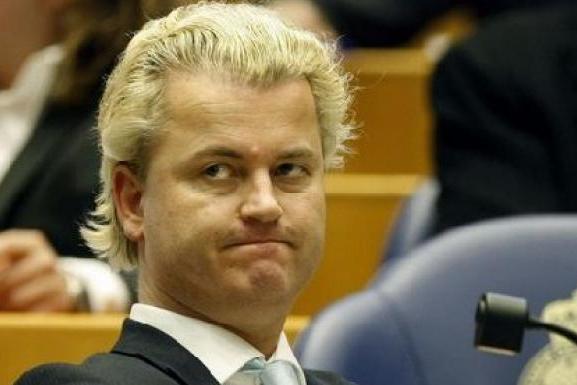 Dutch anti-Islam politician Geert Wilders of Freedom Party (PVV)
Publicity-seeking Dutch anti-Islam politician Geert Wilders is to broadcast depiction of the Prophet Mohammed (PBUH) on television during time reserved for political parties on Saturday, his party said.
The cartoons will be shown on Dutch public television at 1049 GMT, Wilders' Freedom Party (PVV) said in a statement on Friday, adding that they would be repeated on June 24 and July 3, FMT reported.
Wilders said he was making the broadcasts to defend freedom of speech after two militants were shot dead while attacking a Mohammed cartoon contest in Texas last month.
The Texas event, called the Muhammad Art Exhibit and Cartoon Contest, was sponsored by the New York-based anti-Muslim and pro-Israel American Freedom Defense Initiative group took place in Garland, Texas earlier in May. Two gunmen opened fire near the venue and wounded a security guard before they were shot and killed by police. In the past, he triggered protests in the Muslim world for a short film he broadcast online that juxtaposed verses from the Quran with videos of violence and terrorism.
Anti-Islam caricatures and events that are allegedly being held in the name of the freedom of speech and free society are considered as a way to insult the Muslim community. Muslims believe the depiction of provocative cartoons of Muhammad (Pease Be Upon Him) is blasphemous.
Dutch authorities have said such a move could see Wilders' right to airtime suspended for up to four years. Dutch embassies have reportedly been warned about what measures to take if the cartoons are broadcast, as they could spark violent protests.
Wilders' announcement earlier this month that he wanted to show the cartoons on television prompted the Council of Moroccan Mosques in the Netherlands to release its own cartoon mocking Wilders as a spoilt child with a big mouth.
Wilders, who gave an anti-Islam speech at the Texas event shortly before the attack, had tried to get parliament to stage an exhibition of Mohammed caricatures.
The anti-Islam politician, whose PVV party gained popularity in the Netherlands on an anti-Islam ticket, has denied that a cartoon exhibition would be provocative.
The Dutch Media Authority provides airtime to parties to make political statements, but has said it only looks at the content of the broadcasts after they are shown.
If a judge decides that a hate crime has been committed then the authority can withdraw a party's right to airtime for up to four years.
Ever since forming his own party in 2006, Wilders has been a divisive figure in the Netherlands, which prides itself on its long but fading tradition of multi-cultural tolerance.
The firebrand politician says that he is acting in the name of freedom of speech, but also that he wants the Qoran banned.
Satan mind Wilders, is the producer and promoter of anti-Islam film "Fitna" which displays images from 9/11 and the 2004 Madrid attack with Qur'anic verses. The film was condemned globally and found provocative.
In 2013, he altered the Sauda Arabian flag using the Arabic alphabet in a slur campaign against Islam and subsequently offered to distribute it as a free sticker was condemned by the Dutch government and opposition parties.
The frequency and notoriety of hate crimes and violent attacks on Muslims has increased globally during the past decade. Intolerance, hatred and discrimination of religious and ethnic minorities show that these problems have yet to be dealt with seriously.
. Tags: #
Anti-Islam
#
Islamophobia
#