Drowned Syrian boy show tragic condition of refugees .
2015-09-04 09:21:23 | Muhammad Usman (@Al-Muslim)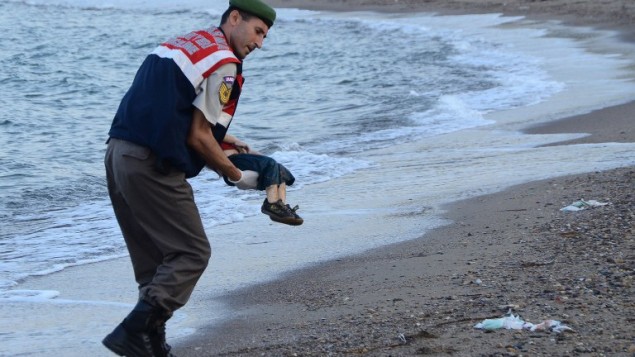 A Turkish police officer carries a young boy who drowned in a failed attempt to sail to the Greek island
No words for this trajic insident that broke hearts of all humanity. Little boy showed form which painfull condition of refugees. why we only feel only momments on insidents like pashawar incident and many more but so called democarcies in the worlds who refuees to help these refugess.
The picture, taken on Wednesday morning, depicted the dark-haired toddler, wearing a bright-red T-shirt and shorts, washed up on a beach, lying face down in the surf not far from Turkey's fashionable resort town of Bodrum.
A second image portrays a grim-faced policeman carrying the tiny body away. Within hours it had gone viral becoming the top trending picture on Twitter under the hashtag #KiyiyaVuranInsanlik (humanity washed ashore).
Turkish media identified the boy as three-year-old Aylan Kurdi and reported that his five-year-old brother had also met a similar death. Both had reportedly hailed from the northern Syrian town of Kobani, the site of fierce fighting between Islamic state insurgents and Kurdish forces earlier this year.
. Tags: #
Turkey
#