Develop Strategies to Address Issues Confronting Muslims: Indian vice president
2015-09-02 11:19:33 | Al Muslim News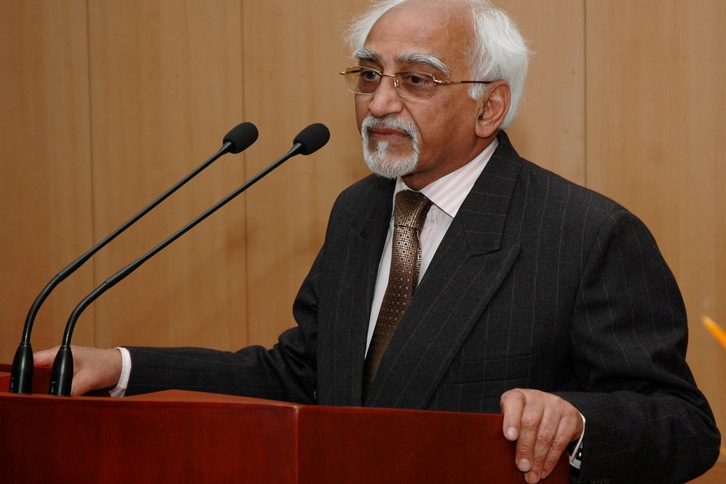 Hamid Ansari Vice President of India
India's Vice President Hamid Ansari made a strong pitch to develop strategies to address problems of identity and security confronting Muslims in the country and sought an "affirmative action" from the government, which espouses the policy of 'growth for all'.
Vice President Ansari said that exclusion and discrimination including failure to provide security has to be corrected by the State at the earliest and appropriate instruments developed for it.
The vice president was speaking at the golden jubilee celebration of the All India Majlis-E-Mushawarat, an apex forum of Muslim organizations. "The default by the State or its agents in terms of deprivation, exclusion and discrimination (including failure to provide security) is to be corrected by the State. "This needs to be done at the earliest and appropriate instruments developed for it," he said.
Ansari said the challenge before the nation is also to develop strategies and methodologies to address the issues confronting the Muslims such as empowerment, getting equitable share in states wealth and fair share in decision making process. Observing that the imperative of social peace is political sagacity, Ansari said the Indian experience of a large Muslim minority living in secular polity should even be a model for others to emulate.
The 180 million Muslim populations comprise 14% of the country's 1.2 billion population. Ansari also reminded of the Kundu report of September 2014 which had asserted that "development for the Muslim minority must be built on a bed-rock of a sense of security".The Kundu Committee was set up to review the implementation of the Sachar Committee report.
He said efforts to isolate the community should be "resisted" as failure to communicate with the wider community in sufficient measure has tended to freeze the boundaries of diversities that characterise Indian society.
. Tags: #
Indian-Muslims
#
India
#