Despite Israeli Restrictions, Thousands Attend Funeral of Slain Palestinian Boy
2015-04-27 09:43:08 | Al Muslim News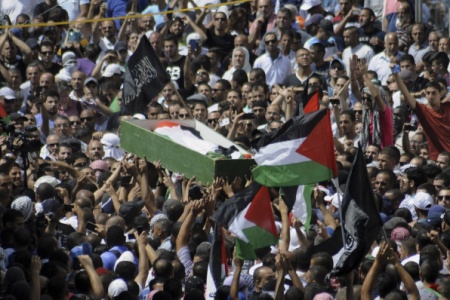 Despite Israeli demands and preconditions for the burial of the slain Palestinian child from occupied Jerusalem, thousands of Palestinians attended early Monday in a funeral procession of a teenager who was killed by Israeli police two days earlier in East Jerusalem.
16 year old boy Ali Abu Ghannam, was shot and killed, on Friday at night, by Israeli soldiers on the Al-Zaim military roadblock, east of occupied Jerusalem.
Israeli police present at the scene fired tear gas at the mourners and clashed with several of them after the end of the funeral of innocent boy.
The Israeli army refused to hand the body of the slain Palestinian to the Red Crescent ambulance that arrived on the scene, and took it to an unknown destination.
Police spokesperson Luba Samri allegedly said that the teenager was shot after running towards an Israeli checkpoint bearing a knife.
Abu Ghanim's father, for his part, cast doubts on the Israeli police story of the killing.
The victim's father told the Police that he will not surrender to their illegal demands, and that he refused to allow forensic experts to perform the autopsy on his child, especially since the cause of death is clear.
After the Israeli forces killed Abu Ghannam, the Israeli authorities detained and interrogated his father, Mohammad, and demanded that the number of participants attending the funeral should not exceed 20 persons.
Israeli soldiers invaded the Abu Ghannam family home, after killing him, and violently searched it, causing excessive property damage, in addition to attacking several Palestinians, and pepper-sprayed many others.
. Tags: #